Whether it's an all-night pig roast or an eight day Festival of Lights with fried food, holiday feasts are a symbol of unity— a time when we can put our differences aside and share in a renewed sense of hope for the coming year. Like everywhere in America, in Miami, Christmas traditions are as unique as our families are diverse. And while every family may celebrate the holidays in their own special way, they all have one thing in common: there's always food involved. Read below to learn about five traditions for feasting this holiday season.
Cuban "Noche Buena"
Fidel Castro's recent passing came at a fitting time - a time when most of us begin to observe the holiday season. Castro banned Christmas for nearly 30 years in Cuba until Pope Saint John Paul II convinced him to lift the ban in 1997, restoring a small amount of hope for Cubans. For Cubans in Miami, the end of Fidel's era has been a symbol of renewed optimism and Christmas this year will be a profound celebration.
So how will Cubans in Miami celebrate? Noche Buena literally translates to 'Good Night,' traditionally this evening is a religious celebration to recognize the birth of Jesus. While many Latin cultures celebrate similarly, Cubans celebrate with a more-than-you-should-ever-eat Christmas Eve feast. Usually hosted in Abuela's or Tia's (Spanish for Grandma or Aunt) backyard, you may find yourself hopping from one party to the next. Every family adds their special touch, but one thing is synonymous among all the feasts — the Lechon, a whole-roasted pig. For John Gallo, Chef Partner of PINCH Miami, this is a tradition he grew up with.
"The family goes out a day or two before to the farm and picks out a pig, and the day before Christmas Eve is spent cleaning out the pig and seasoning it," Gallo says. "Aside that, we have a lot of dishes that are uniquely part of the Cuban Christmas Eve tradition. For sides, we eat moros (rice and black beans) and yuca. Desserts include Arroz Con Leche (rice pudding), Flan de Queso Crema (cream cheese flan), and Natilla (a custard dessert). Turrón is also another semi-sweet and nutty thing we eat on Christmas Eve."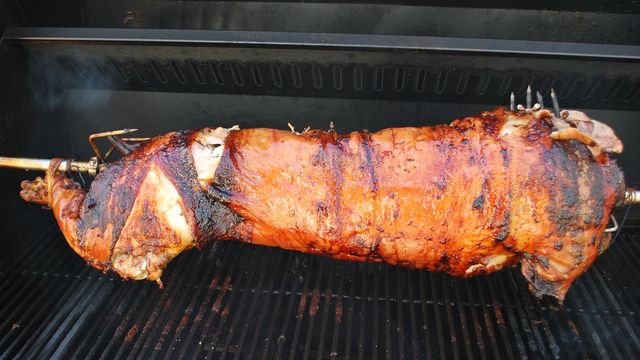 And it's not just eating it that's exciting; cooking the pig is part of the fun, too. "The pig starts cooking early Christmas Eve morning and is a full day production, starting at around 7 a.m.," Gallo says. "When I was little, my family used to dig a big hole in the ground and rotate the pig periodically as it cooked. These days, we just use a 'Caja China,' which is essentially a wooden box above ground."
Of course, at the heart of it all, Noche Buena is all about being with the people you love most. "The most important thing that I learned from the time I was little is that Christmas Eve is mostly about celebrating with family and friends and getting everyone involved in the process," he says. "From the time I was little, I would help my grandmother in the kitchen. It's a big party – from a Bacardi rum punch for the adults, to playing dominoes. These are things that I've seen year after year for as long as I can remember, and traditions that continue to be passed along."
Hanukkah
For Jewish families, each December means one thing: Hanukkah. This holiday celebrates Biblical times, when oil that was meant to burn for one day miraculously burned for eight, so today, it's celebrated with a feast. And being a celebration of oil, it only makes sense that the food is fried. In between rounds of dreidel, random bursts into song (Oh Chanukah, anyone?) and lighting the menorah, sit around the table and eat potato latkes, fried donuts called "Sufganiyot," brisket, a noodle dish called "kugel," and more.
A Very Haitian Christmas
Grab the Kremas! It's a Haitian Christmas. During this festive holiday, get in the French-Caribbean spirit with riz djon-djon (rice with mushroom), griot (seasoned fried pork), fried plantains, chicken and sauce, pain patate (sweet potato pie), bouillon (spinach soup with flour dumplings and beef), pâté, and of course, Kremas. Kremas is a special holiday drink made with milk, sugar, spice and rum, and as far as Christmas goes, it pretty much pairs well with everything.
Italian "Feast of the Seven Fishes"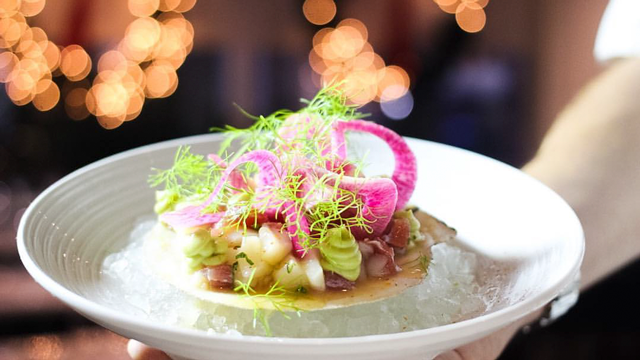 In a seafood-centric city like Miami, we locals don't complain when a celebration happens to center around the sea. Having taken several turns since its original form — a seven-course feast where every dish featured a different fish — today, the Feast of the Seven Fishes can have 12 fish courses (to honor the 12 disciples of Christ) or three courses (to represent the Three Wisemen), or even just one course with a hearty seafood stew. Regardless of how you celebrate, it comes down to three things: seafood, family and wine. On the menu? Everything from calamari, baccala, blue crabs and scallops, to pulpa, shrimp, clams, oysters, lobsters and more. And obviously… wine. TIP: Izzy's Fish & Oyster is hosting their very own feast this Saturday, December 24th priced at $65 per person / $120 per couple. To reserve, call 305.397.8843
A Proper English "Happy Christmas"
In England, there are some pretty strict rules for what should be eaten on Christmas Day. In this part of the world, you'll start with a simple seafood dish, like a shrimp cocktail, and move on to the equivalent of an amped-up American Thanksgiving. You'll find carved turkey, stuffing, cranberry sauce, vegetables, sausages wrapped in bacon, an entire course of just crackers, and for dessert, pudding. Expect cakes and cream dishes topped with brandy butter, followed by dessert part two: cheese boards and meaty mince pies.