Food Network's South Beach Food+Wine Festival
Now going into its 13th year, the Food Network South Beach Wine & Food Festival presented by FOOD & WINE began as a one-day festival known as the "Florida Extravaganza". Today, the Festival hosts over 60,000 guests throughout the 4-day event.
Wine Spectator's Best of the Best
Fontainebleau Miami Beach Presents Wine Spectator's Best of the Best Sponsored by Bank of America is where chic meets substance. Enjoy a leisurely stroll from station to station hob-knobbing with the chefs and wine-makers, while soaking in the elegant surroundings. Only proprietors and wine-makers from each winery are invited to pour their top varietals at this event and they are thrilled to take time to speak to attendees about their individual processes.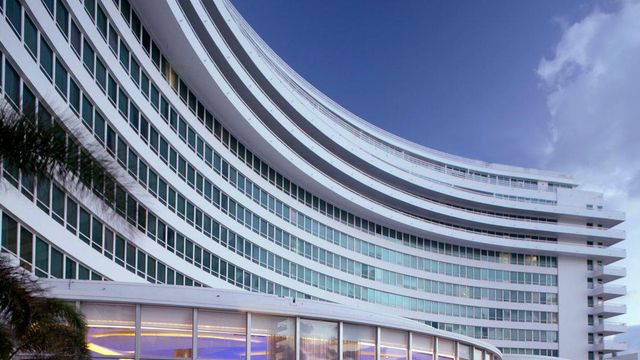 Photo Credit: SOBEWFF
Amstel Light Burger Bash
Rachael Ray is back to host her signature Amstel Light Burger Bash presented by Pat LaFrieda Meats. This walk-around sampling of the country's best burger creations, uniquely accompanying side dishes and Amstel Light Lager beer, takes place underneath the iconic white tents directly on the sand behind The Ritz-Carlton, South Beach hotel.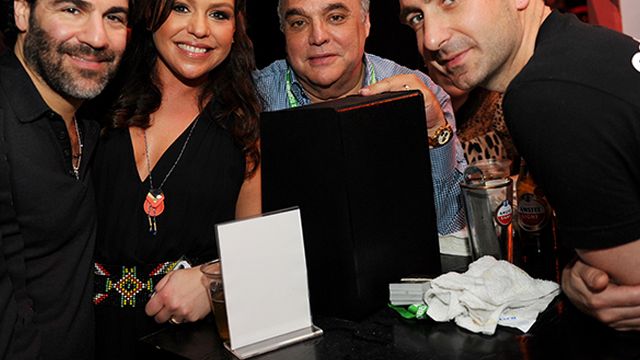 Photo Credit: SOBEWFF

Garden to Glass with Emeril Lagasse
Legendary chef Emeril Lagasse takes over Miami Beach's Botanical Gardens for a for a late-night romp through the wilderness featuring the master mixology of bartenders from Bar Lab combined with incredible ceviche from rising star Chef Sam Gorenstein from the new SOBE restaurant My Ceviche. Garden to Glass is the place to be if you're a fan of innovative spirits and soulful seafood. The bartenders from Bar Lab will fresh herbs and plants growing in the botanical gardens to spruce up the evenings drinks! Seasoned SOBEWFF veterans know our specialty is late-night fun, and trust us when we say were gonna 'kick it up a notch'!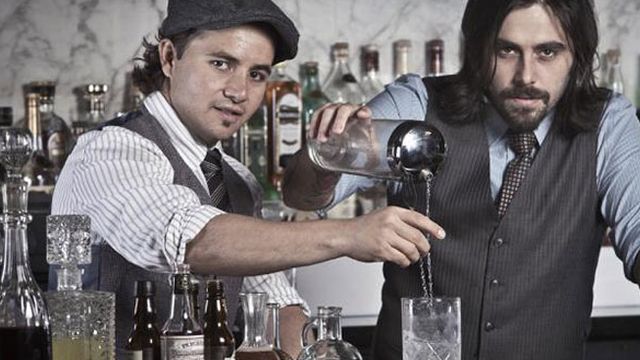 Photo Credit: SOBEWFF

Oyster Bash
Aww shucks! Time to dive right into the Festival's Friday night line-up with the Oyster Bash presented by Island Creek Oysters hosted by Ming Tsai and Jeremy Sewall. Join Simply Ming host Ming Tsai, Island Creek Oyster Farm founder Skip Bennett, and Island Creek Oyster Bar Chef Jeremy Sewall for delicious delicacies and oysters freshly shucked by the farmers who grew them. What could compliment the outdoors and oysters more than sipping on great wines from the Winebow portfolio and cocktails from Double Cross Vodka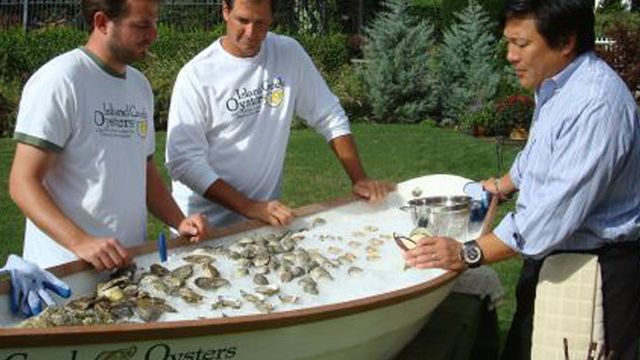 Photo Credit: SOBEWFF
..............................................................................................................................................
SATURDAY FEBRUARY 23
..............................................................................................................................................
Whole Foods Market Grand Tasting Village featuring MasterCard Grand Tasting Tents
Indulge your tastebuds at the MasterCard Grand Tasting Tents on the beach at the Whole Foods Market Grand Tasting Village. Stroll across the sands to the massive tents and treat yourself to an wide selection of bites, wines and spirits. This year the event promises to take culinary competition to a new level, with attendees being able to text in their favorite dishes to vote for the first annual Miami New Times' "Short Order's Best Bite on the Beach" award.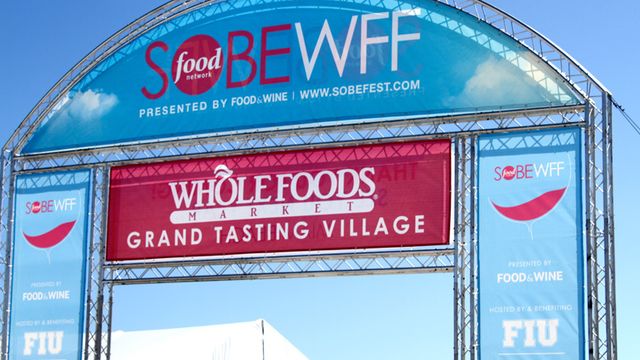 Saturday Feb 23 | Time: 1:00pm to 5:00pm | Price: $225
Location: Grand Tasting Village, 13th Street & Ocean Drive, Miami Beach
DOLCE BRUNCH HOSTED BY DANIEL BOULUD
Daniel Boulud's db Bistro Moderne in downtown Miami hosts the perfect pairing of sleek cuisine with Dolce Wine, known as liquid gold for its small, unpredictable quantities. Dolce Winery is the only winery in North America that is solely devoted to producing a single, late harvest wine based on its Semillon and Sauvignon Blanc flavor profiles. Chef Boulud is a former Tribute Dinner honoree who is known the world-over as one of the top French chefs. His accomplishments include several James-Beard awards on his mantle and a Michelin Three-Star award for his namesake restaurant Daniel in New York City.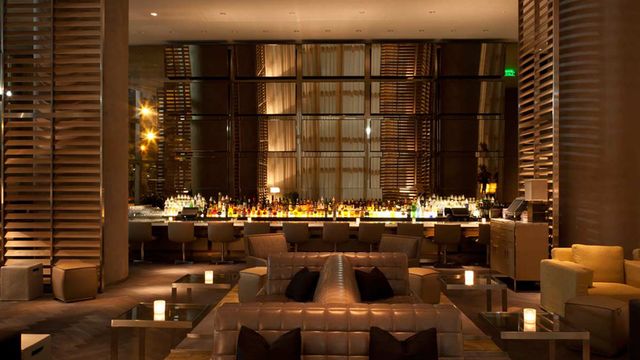 Date: Saturday, Feb 23 | Time: 12:00pm-3:00pm | Price: $175
Location: db Bistro, 255 Biscayne Boulevard, Miami
TRIBUTE DINNER HONORING NOBU MATSUHISA AND CHRISTOPHE NAVARRE
Nobuyuki "Nobu" Matsuhisa is a celebrity chef and restaurateur known for his fusion cuisine blending traditional Japanese dishes with South American ingredients. Nobu owns and operates 35 restaurants worldwide. He became a sensation with movie stars and celebrities when he opened his first restaurant Matsuhisa in Beverly Hills in 1987.
Christophe Navarre is the Chief Executive Officer of Moët Hennessy. He joined Louis Vuitton Moët Hennessy in 1997 as President and CEO of JAS Hennessy & Co, building the company's world leadership in the cognac industry.
This tribute dinner will feature the dishes of some of the world's most renowned chefs, each of whom will personally oversee the cooking and preparation of his or her appointed course. These chefs will be responsible for every aspect of the food served, and the meal will embody the quality expected of the finest three-star restaurants. This is a once-in-a-lifetime opportunity to partake of the creations of multiple chefs whose restaurants span the globe and who likely will never contribute again to a single meal of this caliber. Chefs scheduled to prepare a course are: Daniel Boulud, Thomas Buckley, Frederic Delaire, Ricky Estrellado, Matt Hoyle, Johnny Iuzzini, Yoshihiro Murata, Yuji Wakiya and Roy Yamaguchi.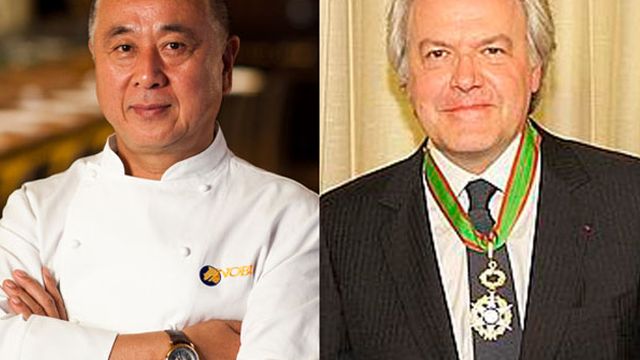 Date: Saturday, Feb 23 | Time: 7:00 pm- 11:00pm | Price: $500
Location: Loews, 1601 Collins Avenue, Miami Beach
A RED HOT NIGHT: PRESENTED BY TARGET: HOSTED BY INGRID HOFFMANN
Inspired by 1950's Havana, party-goers will enjoy an evening of traditional Latino delicacies by Celebrity Chef & Host of Simply Delicioso, Ingrid Hoffmann and delectable beverages to compliment the evening's theme.But what would a Havana night be without dancing and great music? Experience the sultry rhythms of the Celia Cruz All Stars and the soulful sounds of the Soulfrito DJ Collective.Also stop by to meet Univision's Mira Quien Baila dancers, learn a few new Salsa moves, and dance the night away. You won't want to miss this Red Hot Night with Target!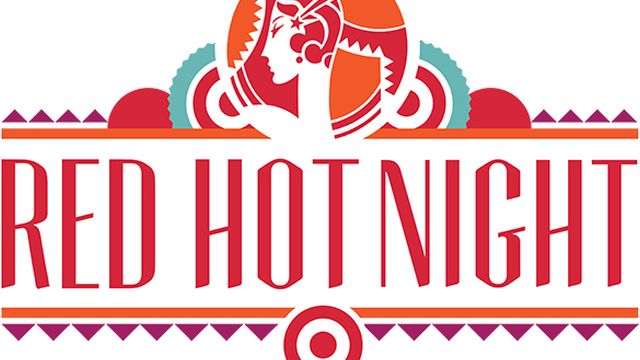 Date: Saturday, Feb 23 | Time: 10:00 pm- 1:00 am | Price: $110
Location: Beachside at The Ritz-Carlton, South Beach, 1 Lincoln Road, Miami Beach