Botran Rum Mixology Class at FINKA Table & Tap
Our friends at Botran Rum recently hosted us at FINKA Table & Tap for a private, interactive mixology and pairing class. Led by FINKA's Beverage Manager, Alex Aportela, we were expertly guided through the process of how to mix the perfect Botran Rum cocktail. This instruction included historical details, an intricate look at ingredients and the best techniques to use while paired with Chef Eileen Andrade's delicious bites.
Alex started as a bartender at FINKA when they first opened, and was promoted to Beverage Manager shortly after. His repertoire includes gigs at 1930s House in Miami Beach and various events and venues throughout the Brickell neighborhood. Under the guidance of mentor Eddie Fuentes, FINKA's first Beverage Manager, Alex was able to demonstrate and perfect his skills in craft-cocktail making.

One thing he emphasizes is the importance of using quality spirits and ingredients to execute the perfect libation. We used Botran Rum Reserva, aged in white oak American Whiskey barrels, in our creations. Notes of vanilla and oak work well in sophisticated, tart cocktails like FINKA's Mojito. For this flavorful cocktail, Alex uses crushed ice to pace the rate of dilution and extend the life span of the drink. Most of us are accustomed to sugary mojitos in Miami. Alex balances the FINKA Mojito by using their own simple syrup recipe, 2 parts sugar, 1 part water and a pinch of salt. Not commonly used in mojitos, Alex tops off the drink with a few drops of angostura bitters to give the cocktail extra personality. Another important thing to note: to ensure the best fragrance and flavor, look for fresh, bright green mint.
Alex shared that the most important detail in preparing a cocktail is to release the oils and aromas of your ingredients, in this case, mint. Slapping the mint on your hand before placing it in your shaker or as a garnish yields a fragrant cocktail and ultra sensory drinking experience. The combined ingredients are shaken, not stirred, in order to maintain clarity and texture, strained and poured over crushed ice.
Try making your very own FINKA Mojito using the recipe below!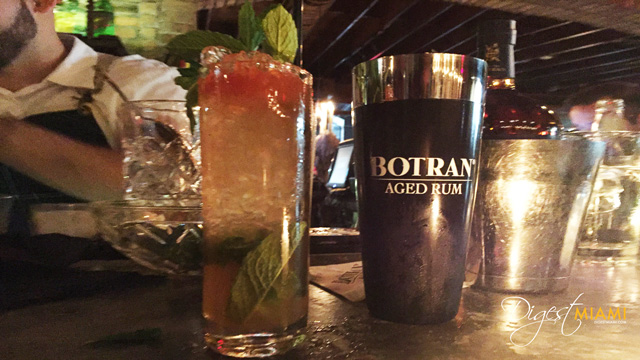 Ingredients:
2 oz Botran Reserva
1 oz Simple Syrup
1 oz of Fresh-Squeezed Lime Juice
Soda Water
Mint Leaves
Angostura Bitters
Ice
Method:
Combine Botran Rum, simple syrup, lime juice, and ice into your shaker. Take about 7-10 mint leaves and slap them on to the palm of your hand.  Add the mint leaves to your shaker. Use a tin and shake for 10 seconds. Use a strainer to pour into a Collins glass. Add crushed ice to the glass. Add a splash of soda water. Add a 3-4 drops of Angostura bitters as a floater. Take a sprig of mint leaves and slap them in the palm of your hand before garnishing the cocktail. Place your straw next to the spring of mint leaves and enjoy.?
Now that we've shared FINKA's superb cocktail recipes, we highly recommend pairing your libations with Chef Andrade's fantastic fusion dishes such as Beef Cheek and Peruvian Polenta or Aji Amarillo Risotto with Churrasco Anticucho.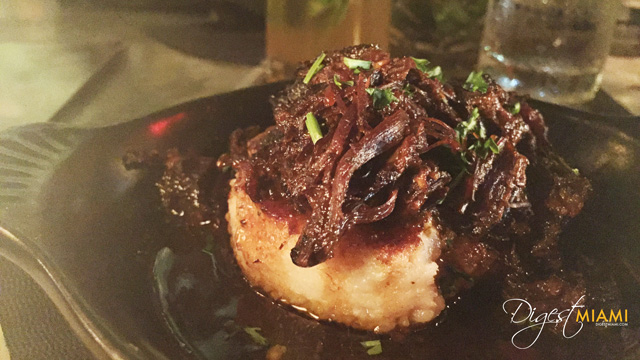 Eight-Hour, Slow-Cooked Beef Cheek with Peruvian Polenta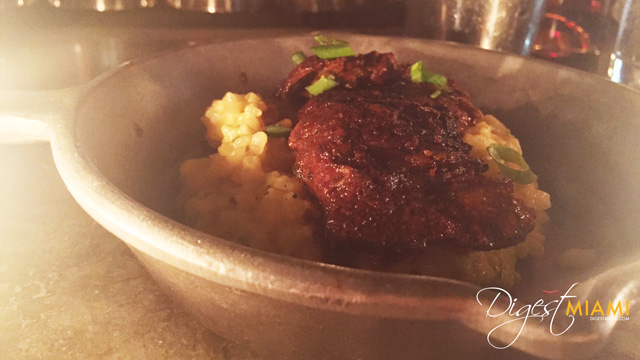 Aji Amarillo Risotto with Churrasco Anticucho
How would you like to participate in your very own Botran Rum Mixology and Pairing Class? Stay tuned for updates on how you can attend your very own intimate class with Digest Miami! In the meantime, try out this recipe for FINKA's Old Cuban here.