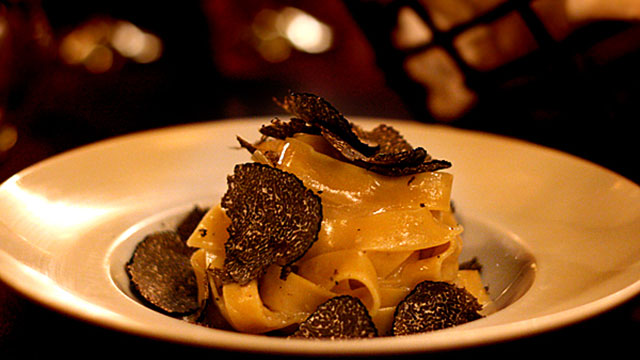 Scarpetta celebrates the most decadent of seasons with this six-course tasting menu featuring Black Truffles!
Often referred to as the jewel of Italian gastronomy, black truffles are one of the world's most desired culinary delicacies. Through the end of March, Chef de Cuisine, Marlon Rambaran delights guests with an indulgent multi-course menu.
Begin this lavish dining experience with an amuse bouche of Steak Tartare with preserved truffle followed by the the restaurant's popular Creamy Polenta with fricassèe of truffled mushrooms. Guests will then take pleasure in two pastas, Ricotta Truffle Ravioli as well as a Tagliatelle with black truffle, white mushrooms and truffle sabayon. But wait, there's more... expect two exciting entrees composed of Spanish Turbot with a zucchini, tomato and fennel compote and eal Sirloin with guanciale, wild mushroom, hazelnut potato crema and pickled onions.

To complete this sensational dinner, guests will be surprised with a selection of desserts chosen by Chef Rambaran! Feeling adventurous? Guests may also order a-la-carte or delight in freshly shaved black truffles on a number of regular menu items.
Reservations
$195 per person exclusive of tax and gratuity. A sommelier selected wine pairing will also be offered for an additional $115 per person.

To reserve, please call 877.326.7412
Location
Scarpetta at Fontainebleay
4441 Collins Avenue
Miami Beach, FL 33140