Miami's culinary scene is just as much of a draw as the art. Follow our fair-by-fair guide below for the best places to dine and drink.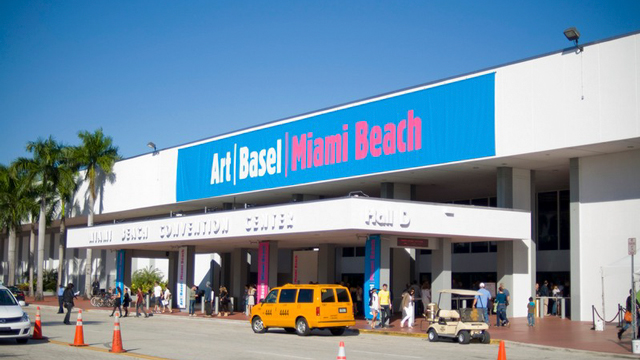 Coffee:
Wake up! It's Basel time. And to make sure you have enough energy for the long (but fun) day ahead, you'll want to grab a special brew of small-batch coffee at Panther Coffee. Stroll through the chic local scene of Sunset Harbor as you make your way to Miami's coveted Art Basel fair.
Lunch:
A full day of gallery hopping deserves a luxurious lunch break – so for lunch, head to famed Michelle Bernstein's beloved Art Basel pop-up, Garden Café. Sitting just steps from the Miami Beach Convention Center, inside the Miami Beach Botanical Garden, this spot will have a menu of "Chef Michy's" raved-about fare, like artisanal sandwiches, salads, soups and baked goods similar to those at her Miami Design District mainstay, Crumb on Parchment.
Dinner:
If you're a VIP ticketholder, finish your day of Basel-hopping at Michelle's other namesake pop-up, Michy's, located in the VIP-only Collectors Lounge at the Convention Center. If you're not a VIP ticketholder, fear not – head back over to Sunset Harbor and snag a reservation at NaiYaRa for exotic Thai-inspired flavors. OR, indulge in mouthwatering Mexican fare at the brand new Olla by Chef Scott Linquist. TIP: Ask Chef about his favorite Mezcal.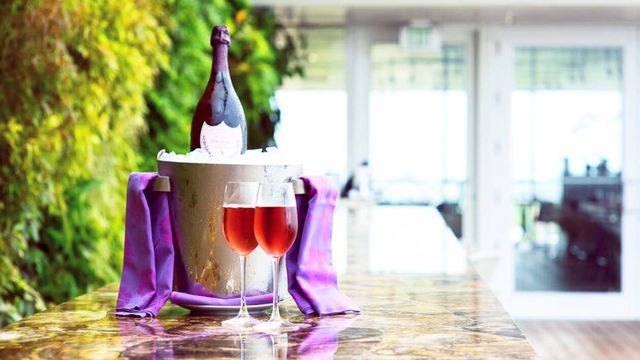 Drinks:
Finish your night with a rooftop cocktail at Juvia, just steps away, or at watr, 1 Hotel & Homes rooftop, St. Tropez-style restaurant and lounge. For that extra late-night jaunt and an impressive collection of vintage spirits, go to Sweet Liberty. Ask for the secret table behind the bar and allow the bartenders surprise you with their favorite treats!
Art Basel and Design Miami are located in and around the Miami Beach Convention Center, at 1901 Convention Center Drive.
SCOPE Miami Beach/Aqua Art Miami
South Beach
---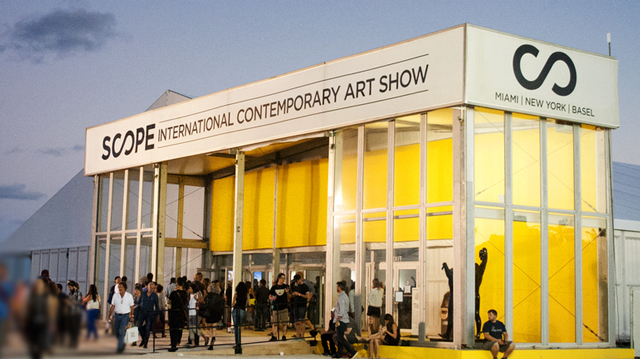 Breakfast:
Before you head to the beachfront SCOPE art fair, take a quick stop at DIRT, where you can fuel up with mouthwatering, locally-focused breakfast options like Pumpkin Almond smoothies, organic breakfast bowls, Avocado Toast, Acai bowls and more. Looking for something less health-focused? Get the all-day breakfast or brunch at Bakehouse Brasserie – Menin Hospitality's newest restaurant.
Lunch:
When it's time for an afternoon break, take a quick detour to South of Fifth and sink your teeth into Miami's most prized bite of the season - stone crab claws! Look no further than Joe's Stone Crabs Takeout. Grab your crab and find a spot on the South Pointe Promenade for the best waterfront dining experience.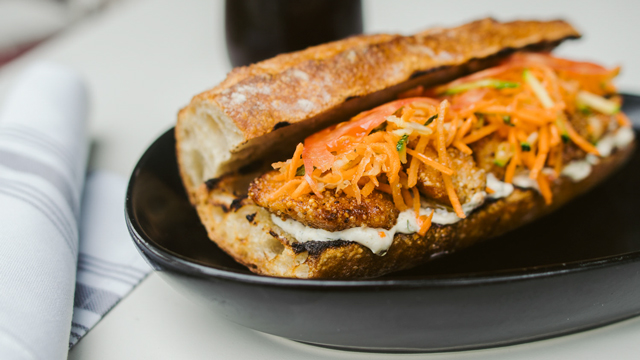 Dinner:
Just in time for SCOPE Stephen Starr introduces Upland to Miami Beach. Led by Chef Justin Smille, expect craveable cuisine and perfect pizzas at this New York City counterpart. If you're heading in the other direction to one of the many VIP parties taking place this week, make a visit to Jeff McGinnis and Janine Booth's The Sarsaparilla Club - fusing Asian dim sum concepts with American fare. TIP: You must try the green curry fried chicken.
Drinks:
As you close out your evening, head back towards Sip on an infused rum drink at Rum Line, in the Loews Hotel, or grab a bespoke cocktail at Repour Bar.
SCOPE Miami Beach is located at 801 Ocean Drive. Aqua Art Miami is located inside the Aqua Hotel, at 1530 Collins Avenue.
NADA Art Fair Miami Beach/PULSE Miami Beach
Mid-Beach
---
Breakfast:
Indulge in a cup of coffee and and a decadent pastry at Chez Bon Bon, in the Fontainebleau.
Lunch:
Make a visit to Cecconi's Miami Beach, in the SOHO Beach House, where a Delicata Squash Pizza, a Quinoa, Kale and Pomegranate salad and a chilled Chardonnay are sure to curb your appetite.
Dinner:
The Confidante introduces it's newest culinary addition, Nina's House, led by Chef Richard Hales of Bird & Bone. Expect a Bohemian farmhouse vibe and American-inspired bites. Or feast on an organic Market Salad or hearty pizza — like one topped with butter poached lobster, chanterelle, cauliflower and truffle, perhaps? — at Pizza Burger, Michael Mina's pop-up-turned-mainstay. Grab gastropub fare at the popular TALDE Miami Beach.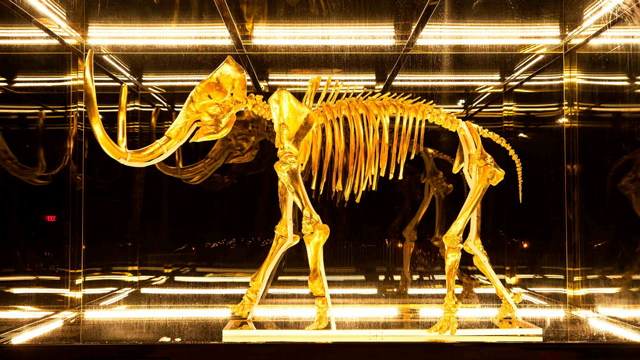 Drinks:
Find your way to Miami Beach's best looking scene and sip on glamour-infused cocktails at Saxony Bar at Faena.
NADA Art Fair Miami Beach is located inside the Deauville Beach Resort, at 6701 Collins Avenue. PULSE Miami Beach is located at Indian Beach Park, at 46th Street and Collins Avenue.
ART Miami/ CONTEXT Miami
Midtown
---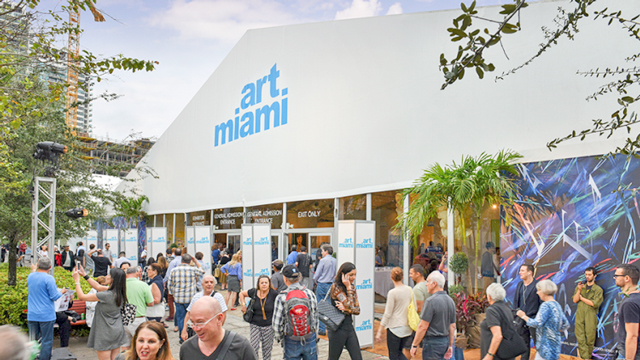 Breakfast:
Start your day with a quick cup of coffee at Pasion del Cielo, or for a more filling breakfast, hop over to the Design District for pastries and breakfast sandwiches at ella or Crumb on Parchment.
Lunch:
Indulge in charcuterie and cheese plates at any of our favorite Midtown Italian restaurants including Salumeria 104 or Bocce. Just steps away is Miami's Design District, streets lined with top designer stores and giant-sized sculptures. Find a hidden garden cove at the Chrome Hearts boutique where you'll find decadent macarons and desserts at Ladurée.
Dinner:
After you explore the hidden exhibits in Design District, make your way to MC Kitchen for the best Garganelli Bolognese prepared with love (and other good ingredients) by Chef Dena Marino. Still in Midtrown? Enjoy an upscale twist on Chinese fare at Blackbrick Chinese, nosh on oysters and other fresh seafood at Midtown Oyster Bar, or enjoy a French feast at Brasserie Azur.
Drinks:
End your night with cocktails and tapas at SUGARCANE, or listen to live music with an affordably priced bottle of wine at Lagniappe.
ART Miami is located at 3101 NE 1st Avenue. CONTEXT Miami is located at NE 34th Street, between Buena Vista Boulevard and NE 1st Avenue.
Pinta Miami/Spectrum Miami/Red Dot Miami
Midtown + Wynwood
---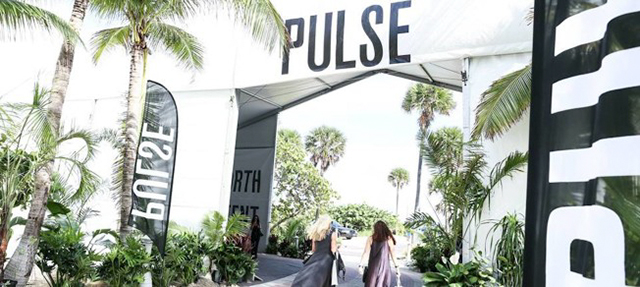 Breakfast:
Panther Coffee is a staple in Miami, so when you're nearby its original outpost, grab a cup of coffee to start your day. Wynwood Cafe and Wynwood Diner are also great options for a full breakfast, or if your there on a weekend, stop by The Salty Donut as early as 11 a.m. for a maple-bacon donut everyone is raving about. Get there as soon as it opens, though — once the donuts run out, the shop closes for the day.
Lunch:
What are you craving for lunch? Sushi? A burger? A salad? Go to KYU for a little bit of all three, grab tacos to-go at COYO Taco, eat pasta at PROOF, or get an open-faced sandwich at none other than Zak the Baker.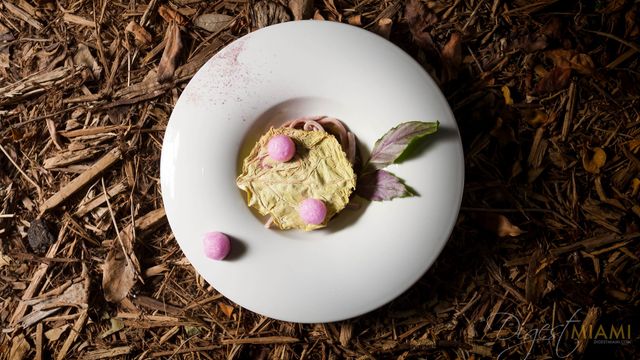 Dinner:
When in Wynwood, one must ALTER.  Book your reservations now for a culinary experience with nationally recognized Chef Brad Kilgore. No tables available? Find globally-inspired Peruvian cuisine at GK Bistronomie. If its vegetarian food you crave, try Matthew Kenney's Plant Food + Wine. You'll be surprised at the creative (and delicious) plant-based dishes on the menu!
Drinks:
Drink like a Wynwood local and grab a beer at one of many local breweries including Wynwood Brewing Company, J Wakefield Brewery and Concrete Beach. Look for a back door in COYO Taco and find yourself immersed in their secret tequila bar featuring a lineup with world renowned DJs. Just steps away from PAMM is the recently opened ME Miami Hotel. Find your way to the 3rd Floor Aura Lounge and escape the bustle with a specialty cocktail and tranquil views.
Pinta Miami is located at Mana Wynwood, at 2217 NW 5th Avenue. Spectrum Miami and Red Dot Miami are located at 1700 NE 2nd Avenue.