Located inside of the Shelborne Wyndham Grand South Beach, Iron Chef Masahuro Morimoto fuses Western and Japanese ingredients at his South Beach namesake. Culinary artistry is showcased to produce creative flavors in innovative menu items. Seductive surroundings and a chic, comfortable ambiance at Morimoto South Beach create a memorable dining experience overseen by the Iron Chef himself.
Iron Chef Masaharu Morimoto is famous for his inventive combinations of Western and Japanese ingredients and his trademark culinary artistry tantalizes palates around the world from New Delhi to Napa Valley.
Chef Morimoto's South Beach namesake, Morimoto South Beach features a Miami Spice menu filled with creative dishes and his signature flare. The dining room, washed in gold hues, metallic accents and oversized tables of polished wood is softly light, creating an atmosphere of opulence and sophisticatication.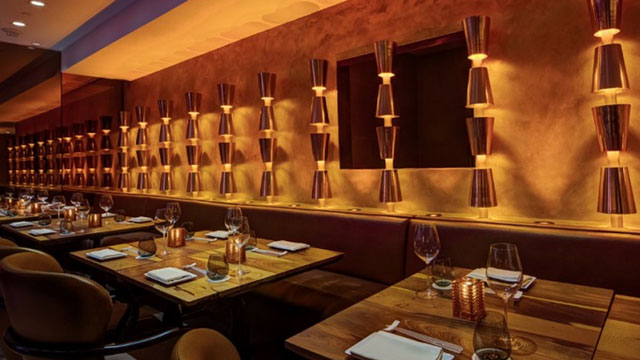 For cocktails, we chose the Morimoto Ginjo sake made by Morimoto. The sake is served in a chilled glass inside of a traditional Masu box. The Morimoto Ginjo is smooth and delicate with a light but with noticeable texture. Lingering soft fruit notes of pear, plumb, vanilla and light spices, provide a crisp and smooth finish.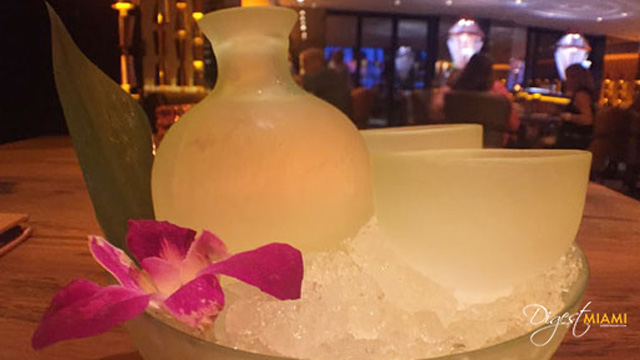 We started our Miami Spice tasting with a selection of sushi and nigiri. Simply put the sushi at Morioto is exceptional. Every grain of rice is polished in machine before cooking giving the chef the ability to control the quality at all stages of polishing. Our Chef's selection included three generous pieces of sushi and 2 pieces of salmon and yellowtail nigiri.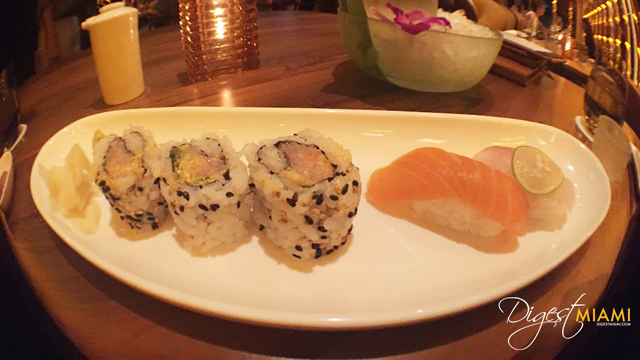 Sushi Tasting, Chef's Selection of Nigiri and Maki
The Hamachi Tacos are a light and refreshing appetizer with a spicy kick. This dish is a blend of cultures and includes homemade avocado puree and serrano peppers. The tacos are seasoned with yuzukosho, a Japanese paste made from chili peppers, yuzu peel and salt, yielding authentic Japanese heat to the dish.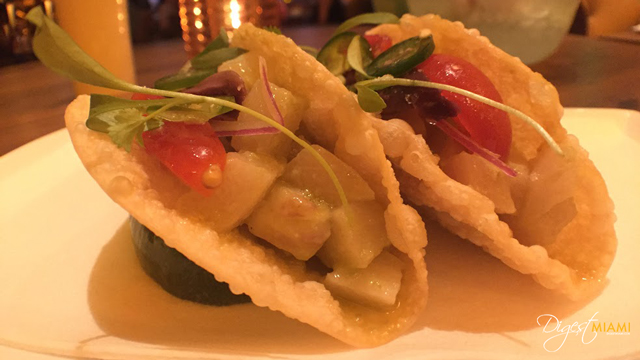 Hamachi Tacos with Avocado, Serrano Peppers and Yuzukosho
We highly recommend the Ishi Yaki Buri Bop (an interpretation of a Korean dish) as your entree as it is a culinary performance sure to delight the entire table. Thinly sliced Yellowtail is set atop white rice, mushrooms and vegetables. Your server will assist with preparing the dish. The yellowtail is cooked table side in the piping hot stone bowl, after about 30 seconds all the ingredients are mixed together and a dash of sesame oil is added to taste.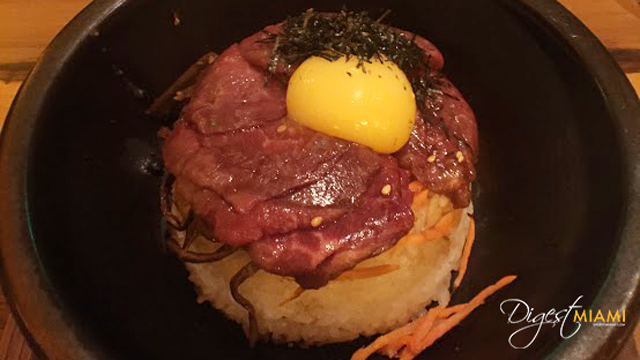 Ishi Yaki Buri Bop, Yellowtail on Rice Cooked at Your Table in a Hot Stone Bowl
End your dinner with Morimoto's exquisite Tofu cheesecake. Blueberry white chocolate sorbet is set upon a creamy kuromitsu cream with blueberry and yogurt. We recommend this dish paired with one of Morimoto's exquisite selections of sake.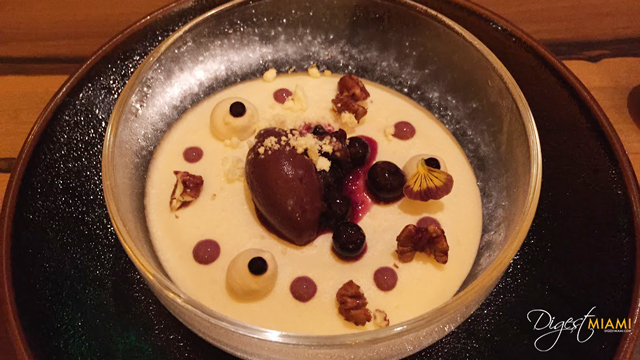 Tofu Cheesecake with Kuromitsu Cream, Blueberry and Yogurt and Blueberry White Chocolate Sorbet
Priced at just $39 per person, (excluding tax & gratuity) Morimoto South Beach's Miami Spice dinner menu is available Sunday from 6:00PM – 10:30PM, Monday – Wednesday from 6:00PM – 10:30PM and Thursday from 6:00PM – 11:30PM. Reservations are highly recommended and can be made by clicking here.