Just short of a year old, Capa Steakhouse and Bar sources as many staple and pantry items from Spain as possible as well as uses traditional Spanish cooking techniques, making Capa a Spanish restaurant with a modern twist. Capa features shareable tapas, crudos and main courses including prime cuts of meat as well as an extensive selection of seafood. Located at the Four Seasons Resort Orlando at Walt Disney World Resort, Capa offers stunning rooftop views overlooking Disney parks.
Capa Steakhouse & Bar at Four Seasons Resort Orlando
Digest Miami hit the road this summer. Destination: Four Seasons Resort Orlando at Walt Disney World Resort. This enormous property sits on over 26 acres of lushly landscaped grounds, including gardens, a lake and a golf course. On the rooftop of the hotel lives Capa Steakhouse & Bar, Four Seasons' sophisticated dining option offering authentic Spanish cuisine with a modern twist.
Featuring a contemporary design, Capa's chic dining room is adorned in black and red hues. The modern open kitchen grants guests a behind-the-scenes look at Capa's culinary creations, but the main attraction is the gorgeous rooftop terrace. Did you know that Capa offers the only view in Orlando of both Magic Kingdom and Epcot fireworks displays? About 5 minutes prior to the shows, the friendly staff ushers guests to the open patio for an intimate shared viewing experience.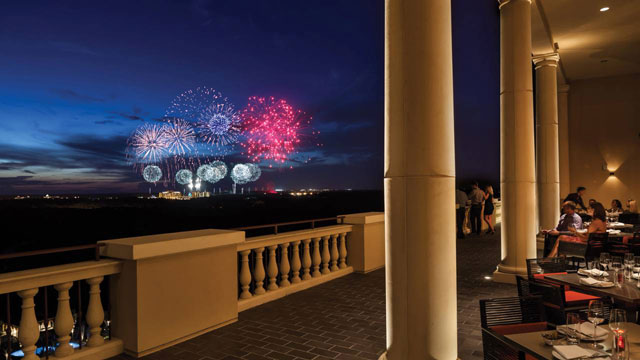 These panoramic views are best enjoyed while sipping on a classic Capa GinTonic ($16) - Caorunn Gin, Fever Tree Mediterranean tonic water, gala apple, juniper, key lime and fennel for light aromatics.  The aperitif is beautifully garnished with colorful herbs, fruits and edible flowers.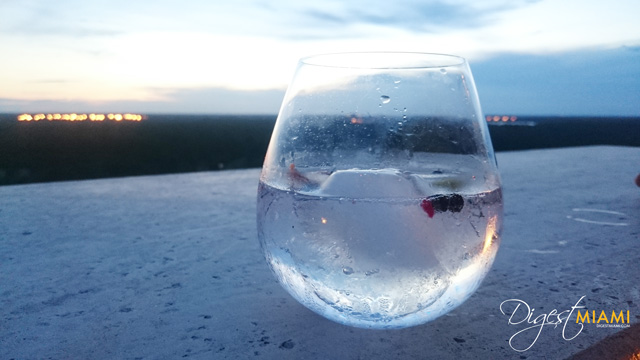 Capa GinTonic with Caorunn Gin, Fever Tree Mediterranean, Gala Apple, Juniper, Key Lime, Fennel
Executive Chef Tim Dacey helms the kitchen at Capa. A Florida native, his philosophy involves sourcing local elements whenever possible as well as cooking with the simple ingredients that usually get overlooked in a dish. "Letting one or two ingredients speak for themselves with minimal seasonings is the best way to go."
Pan Con Tomate with Bread, Tomato and Jamon Iberico
A perfect example of simplicity at its finest is the Pan Con Tomate ($12), a typical dish from Catalonia. A warm house-made baguette is split in half and toasted for just the right amount of char. Chef Tim lightly spreads tomato pulp seasoned with garlic and olive oil on to one half of the loaf before topping it with rich Jamon Iberico. Fun fact: the pigs raised for Capa's Jamon Iberico are completely free range, have very even muscle distribution and are fed only acorns to produce top quality ham.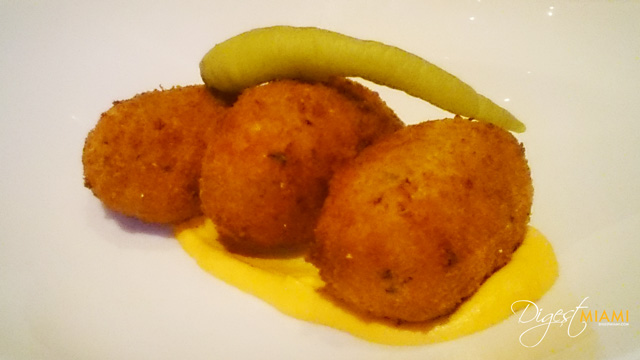 Croquetas with Ham and Salbixada
Capa's Croquetas ($9) outshine many croquetas from Miami and that is saying a lot! Bite into a crunchy breaded exterior and indulge in ham and Catalan salbixada sauce oozing out with each bite.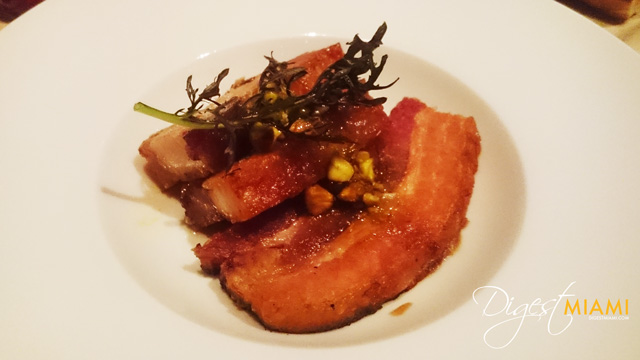 Cerdo, Pork Belly with Apple and Pistachio
Three perfectly crispy pieces of golden brown pork belly make up The Cerdo ($12). It comes with bits of apple and pistachio and sits atop a delicious dollop of apple butter made with granny smith apples and brown sugar. The salty-sweet combination is truly phenomenal.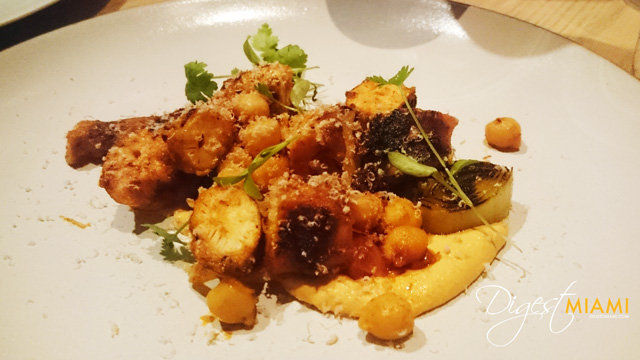 Pulpo, Spanish Octopus with Leeks, Romesco, Garbanzo Beans and Smoked Pork
Another traditional favorite is the Pulpo ($14). Seared Spanish octopus and fresh leeks are set atop a portion of romesco sauce, an earthy, nut and red pepper-based sauce that ends with a fiery kick. The dish is tied together with the buttery flavors of garbanzo beans and smokey bits of pork.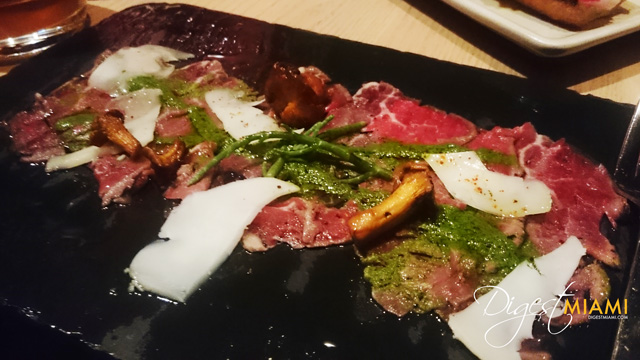 Wagyu Beef Carpaccio with Sea Bean Vinaigrette, Mushrooms and Garroxta
Chef Dacey lightly drizzles thinly sliced Wagyu Beef Carpaccio ($18) with a sea bean vinaigrette before he tops it with mushrooms and Garroxta, a traditional Catalonian goat's milk cheese.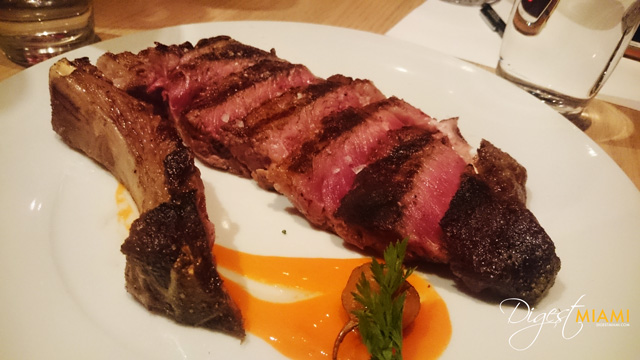 40 Day Dry Aged 16 Oz. Prime Bone-In Rib Eye
The focal point of our dinner was the 16-ounce, Bone-In Rib Eye ($66). This prime cut of meat is dry-aged for 40 days before being cooked to a perfect medium rare. It is served with generous side portions of vegetables, Swiss chard, wild mushrooms with sabayon sauce and Yukon gold mashed potatoes with brown butter.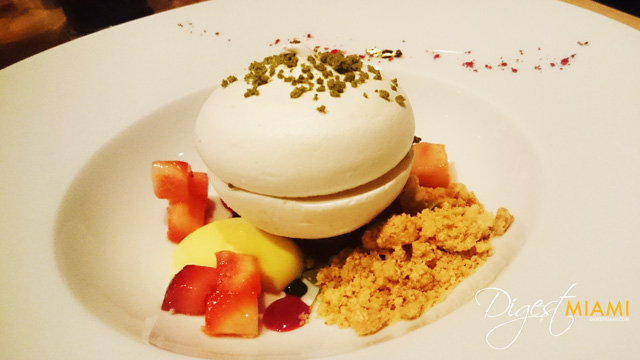 Pastel de Helado with Lemon Basil Merengue and Lemon Basil Sorbet
Our evening at Capa concluded with a taste of their most unique dessert creation, the Pastel De Helado. Not even on the menu yet, this innovative delight is a scoop of lemon-basil sorbet inside of a lemon-basil meringue dome. A fabulous ending to our dinner at Capa.
Whether your next visit to the most magical place on earth is with family, friends or a significant other, you will be sure to experience all of the integral parts that make a vacation amazing at Capa. From rooftop fireworks spectacles to authentic Spanish cuisine in a modern and chic setting, Capa is sure to make your Orlando getaway unforgettable.
Capa is located on the 17th floor of the Four Seasons Resort Orlando at Walt Disney World Resort (10100 Dream Tree Blvd, Lake Buena Vista, FL). Dinner is served Monday - Sunday from 6:00PM - 11:00PM. Click here to make a reservation or call (407) 313-6840.