OLLA celebrates the authenticity of Mexican roots and feature the diverse regional cuisines from Oaxaca to Puebla, Yucatan to Veracruz, and beyond. Helmed by Chef Scott Linquist of COYO Taco, the concept will focus on the soul origin of Mexico. Centrally located in Miami Beach, the restaurant warm colors in a rustic atmosphere to allure an inviting and unpretentious ambiance to welcome every kind of person.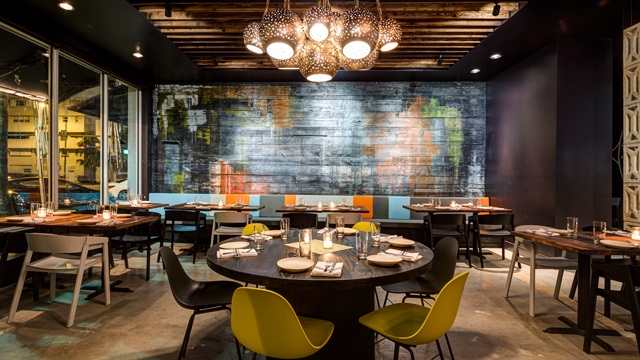 (Photo courtesy OLLA Miami)
OLLA is that one restaurant fans of Mexican cuisine in Miami have been waiting for. And when you consider the men behind it — entrepreneur Aaron McKown and Scott Linquist, COYO Taco chef/owner and Miami's go-to Mexican guru — it's easy to understand its magic before you even walk through the door.
Pronounced "oi-ya," its name is a Spanish word for a pot usually made from clay and used to cook family-style dishes. Staying true to its roots, this name symbolizes OLLA's commitment to the authenticity of its food and to being a place where patrons can come together to drink, dine, and most importantly, have a great time. And it's something Scott Linquist is, and should be, really proud of.
"I am extremely passionate about Mexican cuisine, and have been studying it for more than 20 years," says Scott Linquist. "Although I love Coyo Taco and am so blessed to be a part of it, I needed another outlet to represent comida Mexicana at a higher level. This is the first upscale Mexican I have done since Dos Caminos Mexican Cuisine, in New York, and I'm so proud to call it mine."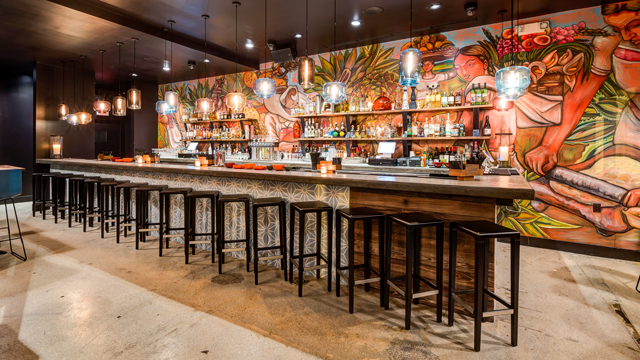 (Photo courtesy OLLA Miami)
Step into OLLA and immediately get a sense of its sexy vibes, great music, sophisticated food scene and laid-back feel. Deep colors, dim lighting, a live DJ and a layout of mostly small tables create a decidedly intimate ambiance, while the wraparound bar offers a peek into true Mexican culture. Look behind the bartenders slinging handcrafted Mezcal cocktails, and you'll find a massive mural painted by artist Juan Manuel Rozas, but inspired by famous Mexican artist Diego Rivera. You might recognize Juan's signature style, as his work can also be found in Scott's two COYO Taco locations.
>>>Read more about Scott's favorite Tequila <<<
Linquist fuses his deep knowledge of Mexican cuisine with authentic (and sometimes rare) ingredients, always bringing out the best Mexican flavors in every dish he creates. Of course, something that amazing takes a lot of talent to actually make it happen.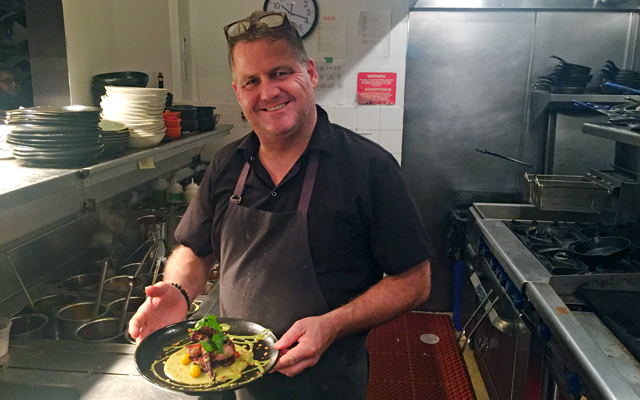 (Photo courtesy OLLA Miami)
"The hardest thing to do is be creative with a cuisine that has centuries of history, especially one that is so special and unique to the world of cuisine," says Scott. "Mexican food is so misunderstood outside of Mexico, so it's hard to modernize it in a way that keeps the flavors, ingredients and the soul of the cuisine, but at the same time makes it interesting. In fact, it takes years of practice."
Go to OLLA for dinner and, as you would in Mexico, start with a drink and order the Oaxacan Burro with Mezcal Joven, ginger, lime, ginger epazote shrub and ginger beer. To make sure you keep it interesting, order a sharing plate of Chapulines ($8), a traditional dish made with grasshoppers, all topped with marcona almonds, chile morita and Mexican chocolate powder. Scott recommends choosing an option from the "Masa" menu, all of which come in the signature homemade blue and white corn masa tortillas from Steve Santana, of Miami Beach's Taquiza.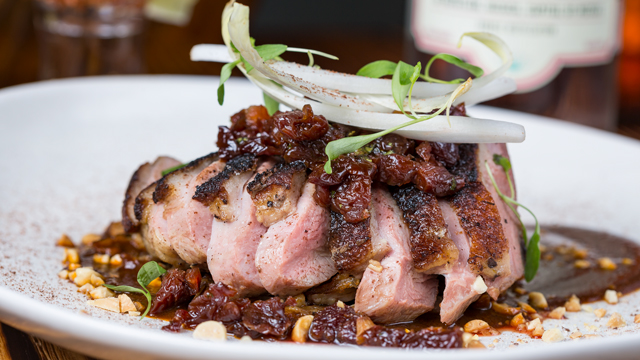 Coloradito with duck and cherries.(Photo courtesy OLLA Miami)
The highlight on the menu, however, are Scott's famous moles. "We make four of the 'seven moles of Oaxaca,' my favorite of which is the Coloradito with duck and cherries. It's a red mole that uses about 30 ingredients, including four different chiles, as well as dried fruits, nuts, seeds, spices, Mexican chocolate and more," says Scott. "Oaxacan Mole Negro and Coloradito are two of the most technically-difficult sauces to make, with some of the most complex flavor profiles of any sauce in the world. I guess you could say I'm just that passionate about it to make it.
Don't know where to start? Try the Amarillo ($17) with diver scallops, cauliflower, red yam, corn masa dumplings and Oaxacan yellow mole, or Sepia ($17) with cuttlefish, cebollitas asadas, charred Serrano, herb salad and an epazote chimichurri. Another popular mole on the menu is a black mole, the Chichilo with short rib. Making it extra special, it uses the two rarest and most expensive chiles in the world, the Chihuacle Negro ($130/lb) and Chicostle Negro ($170/lb).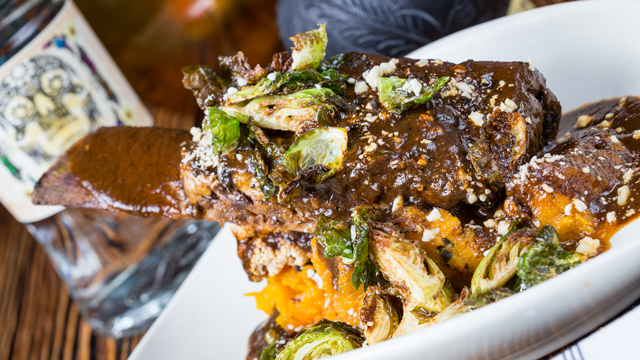 Chichilo with short rib. (Photo courtesy OLLA Miami)
As with most places on Lincoln Road, it's easy for new restaurants to get lost in the masses, but OLLA has managed to standout after just one week running. And while most Miami foodies may deem that feat impossible, for those of us who know Scott Linquist, we're not surprised at all.
OLLA is located at 1233 Lincoln Road, Miami Beach, FL 33139 and is open Open for dinner and late-night seven days a week, as well as for Sunday brunch.