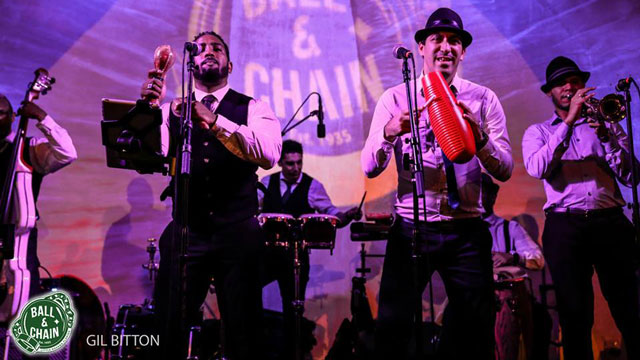 Friday, September 4th - Sunday, September 6th | 1:00PM
Celebrate 80 years of
Ball & Chain
in Little Havana with a three-day music festival this Labor Day weekend! Though Ball & Chain has been through a series of names, owners and re-openings, they first officially opened their doors in 1935. To celebrate their 80th anniversary and one year of being open under the ownership of brothers Zack and Ben Bush alongside Bill Fuller,
Ball & Chain
hosts a three-day music festival extravaganza this Labor Day weekend. Sip on a classic Mojito as you dance to music by Pepe Montes Trio, The Nick Tannura Trio, Tony Succar featuring Mixtura, Electric Piquete and DJ sets by Danis La Clave, Gene Paul, Jahzel, Edward and more!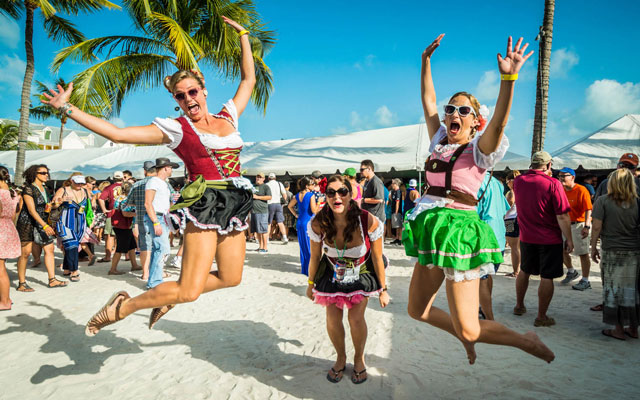 September 2nd through September 7th
Get your brew on this Labor Day with a weekend in the Florida Keys and celebrate the 6
th annual Key West Brewfest
! Everything from Beer Dinner, Brunches, Seminars, Parties and even Beer School is happening at this year's Brewfest. Catch up with some of Miami's local guys including Concrete Beach, Biscayne Bay Brewing and Wynwood Brewing Company! Over 100 beers will be showcased throughout the weekend including several craft brews. VIP
Tickets
are already sold out! General Admission tickets start at $35.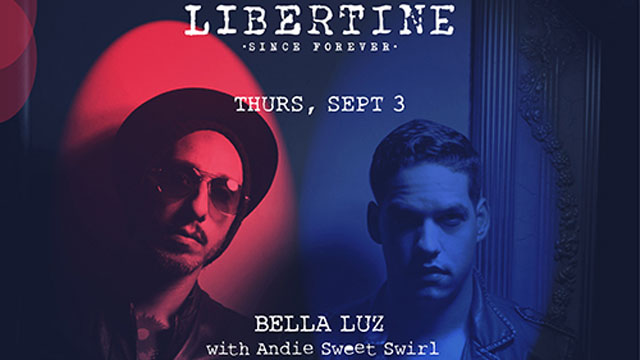 Friday, September 4th | 10:00PM
Handcrafted Cocktails and a Labor Day dance party at Downtown Miami's newest speakeasy,
Libertine
! Start the long weekend with this late night party featuring handcrafted cocktails into the weeeee hours! Make your way through the secret entrance and find yourself transported to an old-world bar and lounge. Eclectic music by the folks that brought us The Electric Pickle along with innovative specialty cocktails have set this watering hole apart from the rest. This Labor Day, enjoy sounds by DJs Andie Sweet Swirl, Michelle Leshem and Jeremy Ismael while sipping on a Firewater cocktail made with Grey Goose vodka, Bacardi Superior rum, grenadine, sugar and fresh squeezed orange juice. The party starts at 10PM and ends "whenever."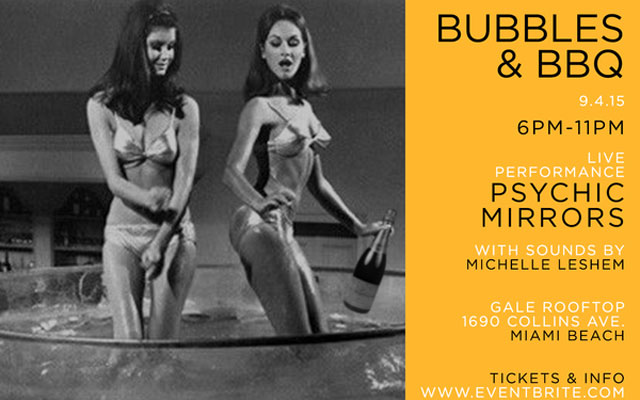 Friday, September 4th | 6:00PM - 11:00PM
Rec Room at the
Gale Hotel South Beach
invites you for Veuve Clicquot champagne, BBQ and a live musical performance! Indulge in breathtaking views of the city and the sea at Gale's recently opened 5,000 square-foot rooftop to celebrate the Labor Day holiday. Hosted by The Gale Hotel South Beach's iconic bar, Rec Room, enjoy delicious BBQ bites along with a taste of Veuve Clicquot champagne. Dance to the sounds of one of Miami's most beloved local bands, Psychic Mirrors as you enjoy refreshing cocktails from Rec Room's full bar!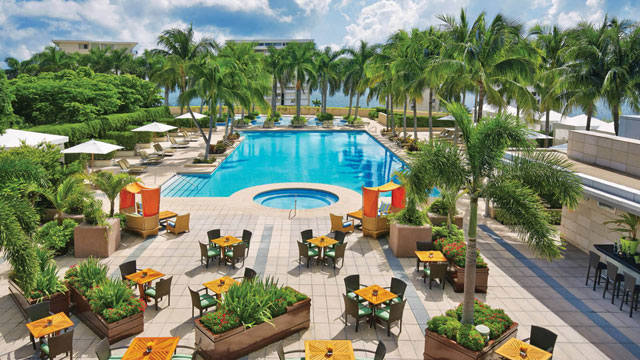 Saturday, September 5th | 12:30PM - 3:00PM
Rated as one of the best hotel pools in Miami,
Four Seasons
hosts their last rooftop escape for Labor Day weekend! Lounge in luxury at this two-acre rooftop oasis and indulge in delicacies of the sea with a poolside RAWbar and southern-style Seafood Boil. RAWbar begins at 12:30PM promptly followed by a seated Seafood Boil at 1PM. Chef Jose Gomez prepares a decadent seafood boil a la Four Seasons style including family-style servings of lobster, pink shrimp, Florida clams, mussels and crawfish simmered in Cajun-style spices, and accompanied by sweet corn-on-the-cob, golden potatoes and housemade smoked sausage.

Sunday, September 6th | 12PM - 6PM
Head to
Bagatelle Miami Beach
for the return of South Beach's hottest Sunday brunch party!
Bagatelle
celebrates the Labor Day weekend with the return of their famed brunch party. Dress in your sexiest white best and sip infused Ketel One cocktails all afternoon! Reserve your table for brunch and nourish that sexy body before the lights dim and the party gets a bit wild. Before you know it, you'll be dancing on the table to DJ Vincent Daubas sensual lounge beats.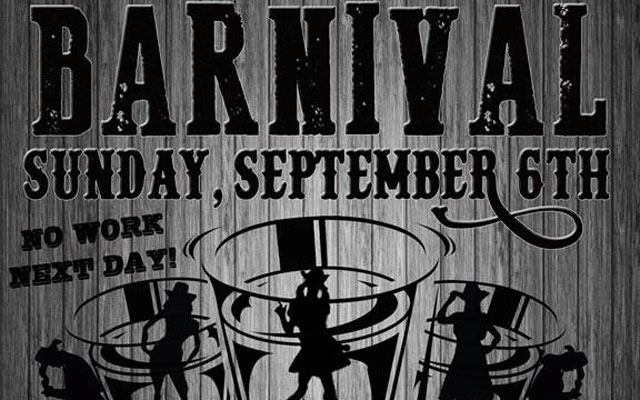 Sunday, September 6th | 7:00PM
SHOTS
in Wynwood hosts Barnival, its first ever Barnyard-themed party this Labor Day weekend! Dust off your old cowboy boots, put on your daisy dukes and get ready to line-dance (or twerk) at
SHOTS Miami
's first ever Barnival, Country-themed party. Just in time for Labor Day weekend, Wynwood's hotspot for innovative shots, vibrant music and all-around great party vibes transforms into a country-lover's paradise! Guests can do-si-do the night away to live performances along with a wide range of music throughout the night. Don't be afraid to use
SHOTS
' whimsical country-themed props, including cowboy hats, chaps and bandanas! Enjoy amazing drink specials throughout the evening as well as delicious BBQ bites by Tuto's Street Cuisine food truck.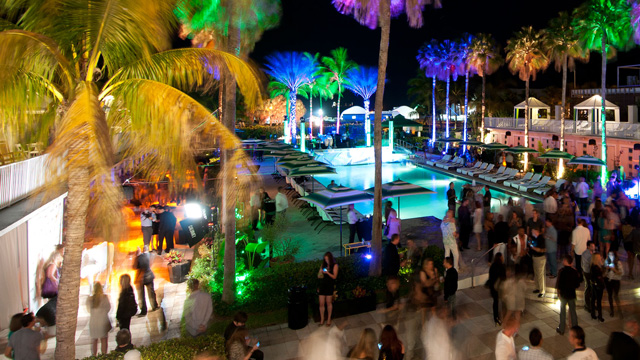 Sunday, September 6th | 12:00PM - 6:00PM
The
Surfcomber Hotel Miami Beach
hosts a daytime pool party to celebrate the Labor Day weekend presented by Silent Revolution. Cool off from the scorching Miami heat at the
Surfcomber Hotel
's Labor Day pool party! Presented by Silent Revolution, celebrate Sunday Funday at one of their luxurious poolside cabanas or lounge right by the giant pool! Meander to the private sandy lounge area and challenge your friends to an amiable game of Jenga as you vibe to the sounds of 3 hot DJs! Nestled between the hotel and the sands of beautiful Miami Beach, recharge from the fun at Surfcomber's vibrant bar, High Tide. Enjoy craft cocktails and delicious bites such as hummus, wings, ceviche and fresh salads before you go back to the party!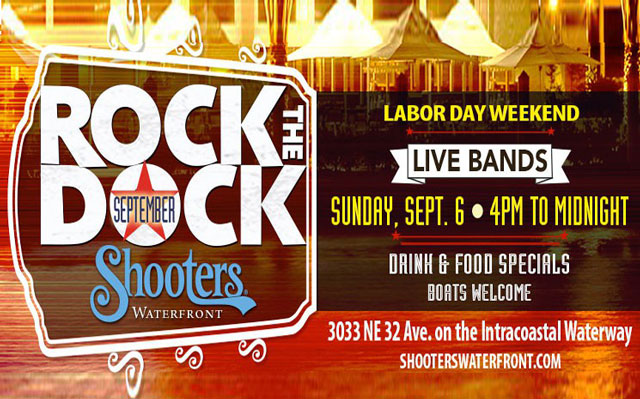 Sunday, September 6th | 4:00PM - 12:00AM
Shooters
Fort Lauderdale hosts a waterfront musical extravaganza on Labor Day weekend! Shooters Waterfront in Fort Lauderdale continues its Rock the Dock concert series just in time for Labor Day weekend! Enjoy fantastic food and drink specials while jamming to live music! Dance the night away to the music of Making Faces from 4PM - 7PM and The Crush from 8PM - Midnight. Boats are welcome to dock near the restaurant!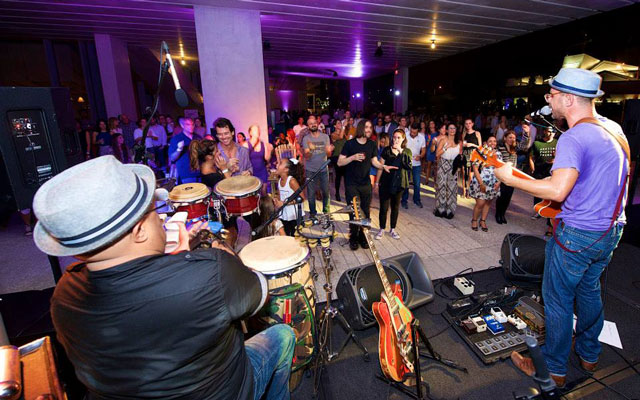 Monday, September 7th | 11:00AM - 3:00PM
Celebrate Labor Day on
Perez Art Museum
Miami's scenic waterfront terrace with food and drink specials and live music! Your Monday off of work should be spent at
PAMM
for s waterfront picnic experience that you will not soon forget! Enjoy live music from Magic City Hippies along with food and drink specials. Take in panoramic views of the Macarthur Causeway and Biscayne Bay before you explore Perez Art Museum Miami's latest exhibits. Exhibitions include "Project Gallery: Bik van def Pol" and "Poetics of Relation." Arrival by Miami-Dade Metromover is recommended, as PAMM is located directly adjacent to the Musem Park station.