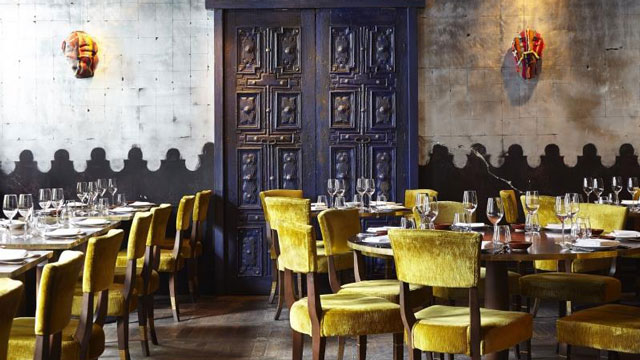 COYA
999 Brickell Avenue | Monday - Friday, 12:00PM - 3:00PM

Embracing Miami's laid-back, luxurious style, Coya is our favorite Brickell lunch spot. Whether it's for a creative working session or negotiating contractual terms, Coya offers three separate experiences suitable for all types of meetings. Easily transition from the bustling streets into an Incan-empire oasis and start the afternoon in Coya's sun-filled dining room. Adorned with deep wood accents and earthy turqouise hues, it is an excellent backdrop to the vibrant three-course lunch option ($29) featuring Coya's signature dishes. After lunch, switch to the main Pisco Bar offering naturally-infused in-house piscos, a fail-safe way to ease those negotiations before you end the evening in Coya's Members Lounge.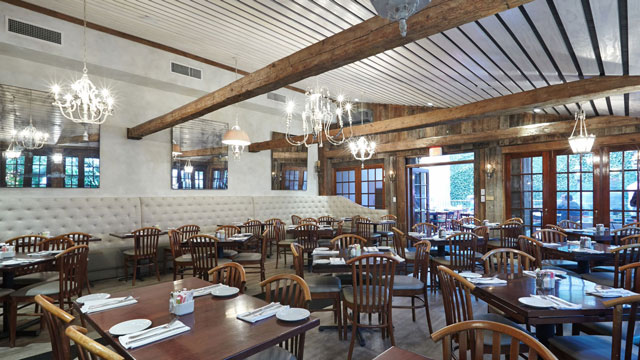 Perricone's Marketplace and Cafe
15 SE 10th Street | Tuesday & Thursday 11:00AM-4:00PM

Nestled in a lushly landscaped corner of bustling Mary Brickell Village, Perricone's maintains its rustic Italian charm. A variety of dining experiences are suitable for all types of meetings. For a more formal dining setting, choose the indoor main dining room outfitted with wood-beamed ceilings, tufted linen banquettes and vintage chandeliers. The bright lower terrace offers a casual, but sophisticated ambiance while the main bar seating is perfect for a quick bite. Visit on Pasta Thursdays and indulge in their signature pasta dishes for just $10! We recommend Grandma Jennie's classic meatballs with Perricone's signature Pomodoro sauce. Pasta Thursdays are dine-in only and served throughout lunch and dinner.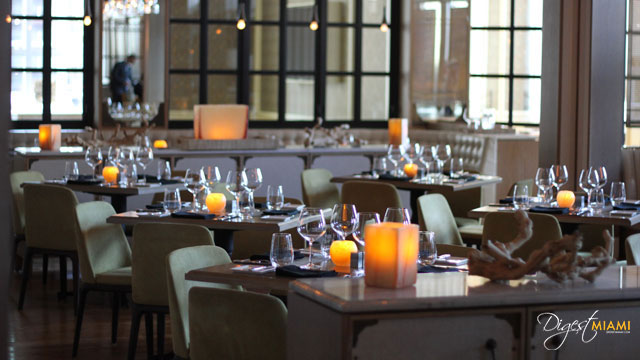 EDGE Steak & Bar
1435 Brickell Avenue | Monday - Friday, 11:30AM - 3:00PM

Located on the seventh floor of the Four Seasons Hotel, EDGE Steak & Bar's private dining-room options offer exclusivity, personalized service and stunning views of Biscayne Bay & Brickell. Able to accomodate up to 12 guests, EDGE's smaller dining room is optimal for a rewarding business gathering. The outdoor terrace is ideal for networking events in a chic, yet casual lounge setting. Neutral wood tones and cushioned seating adorned with vibrant colors, EDGE welcomes professionals from all over Brickell to enjoy modern steakhouse cuisine with farm-to-table accompaniments. Chef Aaron Brooks crafts the perfect menu for your lunch with fresh options updated weekly. Enjoy a perfectly prepared three-course menu for $23. Not within walking distance? EDGE conveniently offers reduced valet parking during lunch.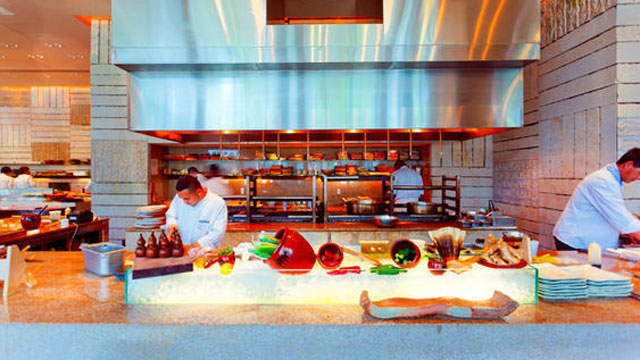 ZUMA
270 Biscayne Blvd Way | Monday - Friday, 12:00PM - 3:00PM

Located in the heart of Downtown Miami inside the Epic Hotel, Zuma offers modern Japanese cuisine in a sophisticated setting. The two Kotatsu rooms offer a private dining experience for groups of 12 - 14 respectivly. The sunken kotatsu tables are flanked by softly lit open bamboo partitions allowing privacy but not isolating guests from the restaurant.  Zuma creates an intimate environment for guests to enjoy a private business meeting or celebrate a special occasion.
The "Set Lunch" is ideal for the busy business person, with the focus on serving lunch in under one hour. Selections include Chirashi Don, a fresh sashimi selection with avocado, cucumber and salmon roe among their signature selection of Ribeye steak or Black Cod with yuzu miso.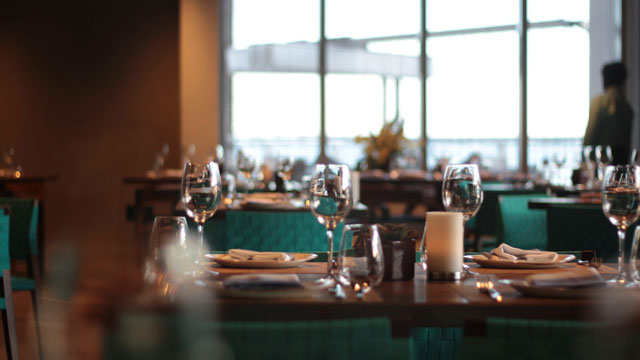 La Mar by Gastón Acurio
500 Brickell Key Drive | Monday - Friday, 11:30AM - 3:30PM

Critically acclaimed, La Mar, inside the Mandarin Oriental, Miami offers guests a chance to host a business gathering in a more relaxed environment. Magnificent views of Biscayne Bay and the Miami skyline only enhance the chic yet casual ambiance. Inspire your invitees on La Mar's sprawling terraces decorated with exotic wood accents and bright colored seating. On-the-go professionals who need their fix of decadent Peruvian cuisine in less than 45 minutes can indulge in the "Express Lunch" menu. Design a a delicious lunch trio followed by a dessert course for just $25, an amazing deal for a champion restaurant. Include a paired glass of red or white wine with your meal for $32. Try the Cebiche Mixto, with yellowtail snapper, octopus, shrimp and rocoto leche de tigre. For the sweetest ending, enjoy the Chicha Morada Sorbet, a purple corn dessert.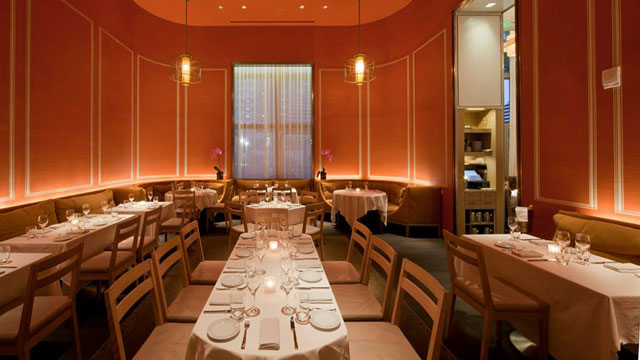 db Bistro Moderne
255 Biscayne Blvd Way | Monday - Friday, 12:00PM - 2:30PM

db Bistro's floor-to-ceiling windows and contemporary designs in the midst of downtown makes it the perfect setting for a business rendezvous. The lounge offers comfortable seating with striking views of Downtown Miami. Private dining options include The Chef's Table at the heart of their glass enclosed wine cellar, ideal for an intimate afternoon reunion. An Executive Lunch menu, perfect for the Brickell business crowd, includes savory options like the Duck en Croute with foie gras, cherry mustard and petite salad and a tasty Jambalaya with Chicken, andouille and dirty rice. Two courses are just $26 with any additional course priced at $6.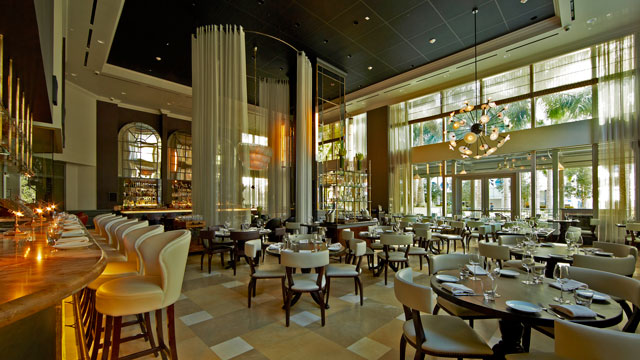 Tamarina
600 Brickell Avenue | Monday - Friday, 12:00PM - 5:00PM

Italian glamour hits the Brickell neighborhood with Tamarina's esquisite antique mirrors, brass accents, and dark wood furnishings. An elegant ambiance and world class hospitality makes it the perfect location for a business lunch. Enjoy 2 courses from their prix-fixe menu for $25 or 3 courses for $32. Dine on a refreshing Tricolore Salad with romaine, radiccio, arugula and shallot dressing or the 6 oz Grilled Salmon Fillet with cauliflower puree and romesco sauce. Their Pina Cannoli with coconut tapioca and tropical fruit chutney is best enjoyed on Tamarina's beautiful wraparound terrace.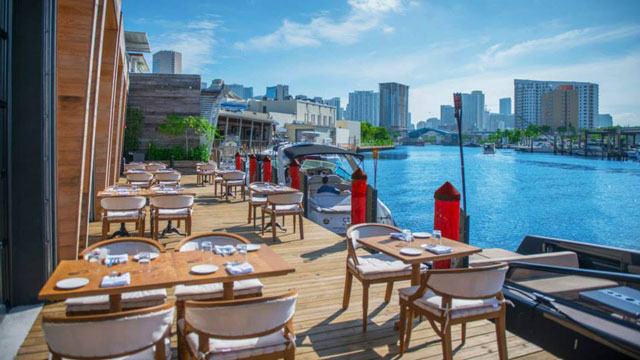 Seaspice
422 NW North River Drive | Tuesday - Friday, 12:00PM - 3:00PM

This seafood brasserie, Seaspice, located on the banks of the Miami River, offers a fantastic waterfront experience that will impress the most sophisticated business clientele. Indulge in one of the many fresh seafood dishes such as the Seaspice Shrimp Salad ($18) with market greens, hearts of palm, orange and couscous or the mouthwatering Seaspice Lobster Roll ($25) with grilled warm Maine lobster, lemon aioli and fresh herbs. Finish off your power lunch with a digestif as you climb back aboard your 90' ft mega yacht and sail off into the sunset.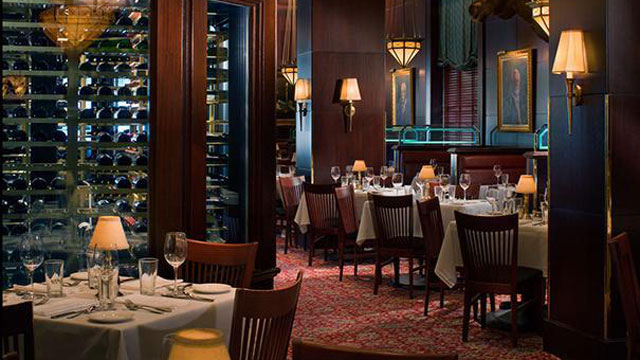 The Capital Grille
444 Brickell Avenue | Monday - Friday, 11:30AM - 3:00PM

Conservative class meets bourgeois, imagine masculine hues of mahogany and walls adorned with golden-framed portraits. Leather banquets are dimly-lit with sconces and offer just the right amount of privacy to discuss those confidential political strategies. A classic steakhouse, The Capital Grille offers plenty of decadent options including their classic 14-ounce, Bone-In Dry Aged Sirloin Steak. Other recommendations include the Maine Lobster Roll or the the Grille's Classic Cheesburger, a delicious blend of sirloin, smoked bacon, and sweet Onions.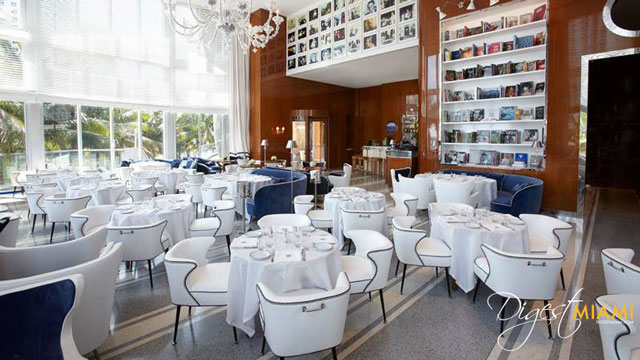 Cipriani Downtown Miami
465 Brickell Avenue, CU1 | Monday - Friday, 12:00PM - 5:00PM

Partake in an elegant work-related lunch meeting inside Cipriani's chic and open dining room, beautifully bathed in blue and white or al fresco on their waterfront terrace, with breathtaking views of the pristine bay. Authentic Italian cuisine is served among elegant surroundings. Just minutes away from Brickell Key, Cipriani offers a Chef's Choice Lunch Menu that changes every day, depending on the arrival of the freshest ingredients. We can also enjoy offerings from their daily a la carte menu, including the refreshing Tuna Tartare with Tonnato Sauce and Mache Salad or the light Sashimi Beef with yuzu ponzu sauce, olive oil and sesame oil.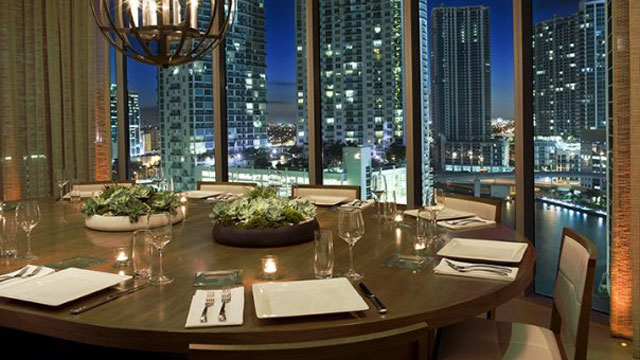 Area 31
270 Biscayne Boulevard Way | Monday - Friday, 11:30AM - 3:00PM

Breathtaking vistas and elegant cuisine make Area 31 the place to see and be seen during your power lunch. Located on the 16th floor of the EPIC Hotel, Area 31's boasts its own viewing balcony for private dining, that can accomodate group of up to 6 guests. With its name taken from Fishing Area 31, an international zone designated by the United Nations Food and Agriculture Organization as a sustainable fishery, we can expect responsible and quality seafood at all times. Area 31's  "Two + One Lunch" special lets guests enjoy one crudo appetizer or small plate followed by a sandwich or entree plus your choice of one glass of house wine, citrus refresher or mini dessert for just $28.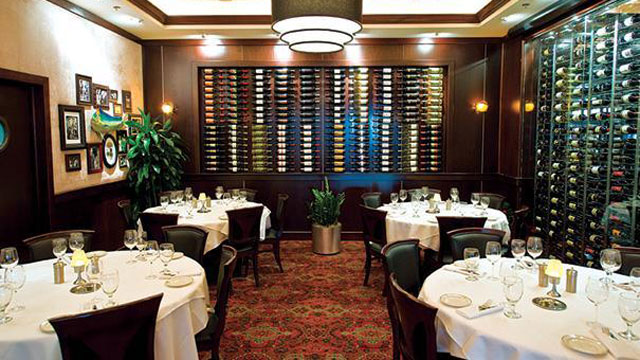 Truluck's
777 Brickell Avenue | Monday-Friday, 12:00PM-3:00PM

Located at 8th street and Brickell Avenue in the SunTrust building, Truluck's is perfect for mid-day dining in style. Dark wood accents and deep red hues set the classic backdrop for entertaining conservative guests. Truluck's offers a $29 Power Lunch deal including hearty or healthy options. Take advantage of an impressive wine cellar to help ease your lunchtime negotiations.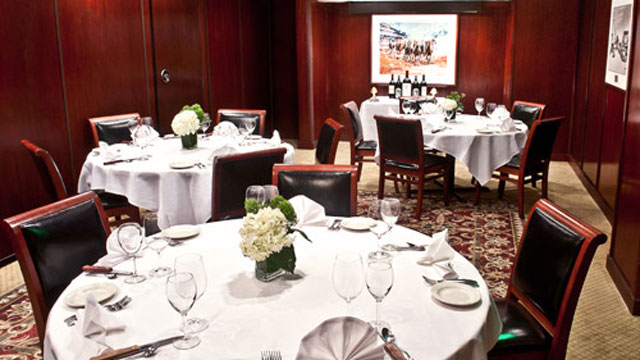 Morton's Steakhouse
1200 Brickell Avenue | Monday - Friday, 11:30AM-2:30PM

Situated in the heart of the Financial District, Morton's Steakhouse offers flawless service in a more serious and professional ambiance. This makes Morton's perfect for private discussions while dining on classic steakhouse fare. An iconic name, with over 69 restaurants around the world, it is evident that Morton's is a timeless venue, classicaly decorated with Victorian style rugs, cherry wood accents and white linen tablecloths. Your company will marvel at the $29 Power Lunch options.