5 Years, 5 Chefs, 5 Burgers at Pincho Factory
---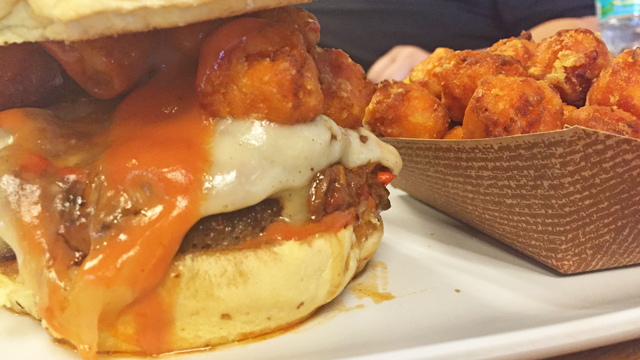 Pincho Factory celebrates their 5th birthday with a 5-day promotion in collaboration with 5 of our favorite local chefs.
In 2010, cousins Nedal Ahmad, Otto Othman and Nizar Ahmad opened their first Pincho Factory location in Miami. Now five years later, their burgers and kebabs have garnered praise from around the country. Most recently, they won the Amstel Light People's Choice Award at Food Network's 2015 Amstel Light Burger Bash. And to top the year off, you can now visit them at their newest outpost in the 300 section of the AmericanAirlines Arena!
For this celebratory week, Pincho Factory has teamed up with local chefs to feature five outrageous creations. Indulge in a new mouthwatering burger each day at either of their two locations including 9860 SW 40th Street in Miami or 30 Gerald Avenue in Coral Gables.
Here's the lineup for the week:
11/9:
Burger Beast's Cousin Otto Burger, an ode to Pincho Factory co-owner Otto Othman, will feature Pincho Factory's own signature burger patty, sweet chili sauce, jalapeños, bacon, pepper jack cheese (optional) on a brioche roll with Cajun fries.
11/10:
The Local's Phil Bryant's El Camino – burger patty, sweet potato tots, Ropa Vieja, Swiss cheese and Mojo ketchup.
11/11:
Jose Mendin's Le Pincho Royale comes complete with foie gras & shortrib pincho, gruyere cheese and black truffle jus.
11/12:
Giorgio Rapicavoli's Calle Ocho Burger will feature Angus beef, fried onion, potato, sweet plantains, smoked cream cheese, guava ketchup and mojo.
11/13:
EDGE Steak + Bar&rsrsquo;s Aaron Brooks will celebrate with an Aussie lamb burger.