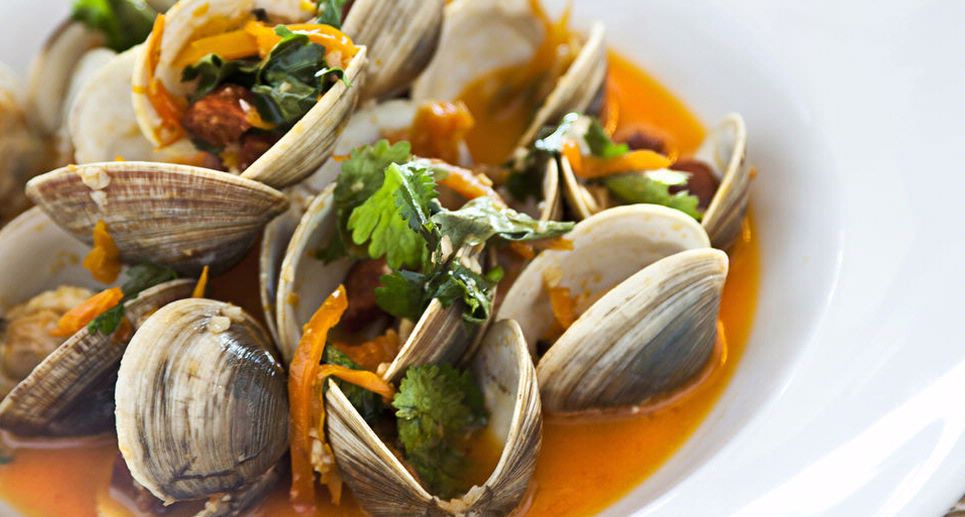 Executive Chef Paula DaSilva from 1500°
Ingredients (Serves 6)

60 littleneck clams
3 Tbsp. minced garlic
2 Tbsp. olive oil
1 cup chorizo, diced
2 Tbsp. Aji Amarillo peppers, julienne
½ bottle white wine
1 quart fish stock (recipe below)
¼ lb. butter
3 Tbsp. fresh cilantro leaves
1 lemon, juiced
Salt to taste
Preparation
Clean the clams and discard any open/dead ones.  Use a medium to large pot and sauté the garlic in olive oil.  Add the clams, chorizo and peppers and cook for two minutes.  Deglaze with the white wine; then pour in the fish stock.  Cover the pot and allow liquid to simmer until the clams open. Stir in the butter and cilantro.  Lightly season with salt and add lemon juice.

Fish Stock Ingredients
1 lb. halibut fish bones
1 rib celery, diced
1 onion, diced
Pinch of salt 
1 quart water

Preparation
Rinse the fish bones clean and place them in a pot with the celery and onion.  Cover the bones with the water and salt.  Bring the stock to a boil; then, turn it down to simmer for 40 minutes.  Remove from heat and allow stock to rest for 20 minutes.  Strain and refrigerate.

Plate:  Spoon clams into warm bowls, pouring some of the sauce into each.  Serve with grilled rustic bread.