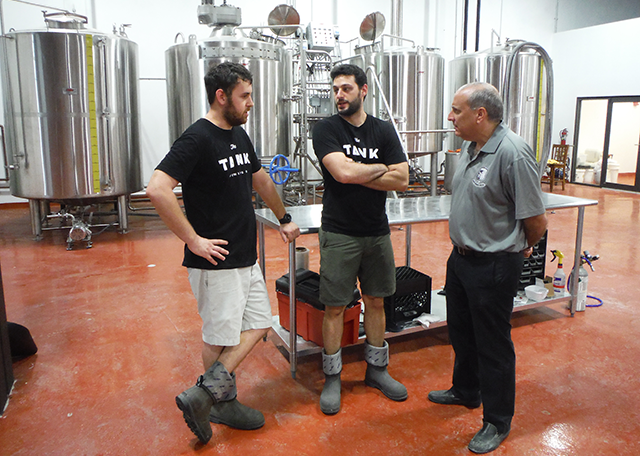 The smokey cigar makes things a bit hazy, but when you understand the full story, it all comes into focus. I light up my cigar and it starts to become clear (trust me this is really about beer). The soon to open Tank Brewing Company is cooking up something magical. You would think I'm simply talking about beer, but you'd be missing the point of what is truly special about this place.
Founded in 2014 by local entrepreneur, Carlos Padron, a lawyer by trade and cigar importer by genius, he felt there was an opportunity to tap into the burgeoning craft beer scene in South Florida. A chance meeting with B.R.E.W. FIU Club connected him to Matthew "Matt" Weintraub who previously consulted Miami Brewing Company before coming on board as Head Brewer. Soon after, Matt sought out Mohsen "Moh" Saade to become his brew partner in this project. Moh's deeply rooted background in Miami's mixology scene fuels his creative thinking. What Moh dreams up in his mind, Matt figures out how to make in reality, but the truth is they're both part mad scientist. Isn't that what brewers are? Just crazy quacks throwing things together while cooking up some marvelous stuff to make your mouth water? Truth is, these guys are methodical and purest which shows in their collaborative creations.
Don't think of all the bells, whistles and flair that a lot of other brewers are playing with. It's a feeling of family here, a tight knit group where no one person is better than the other. Where everybody picks up the trash and no one is greater than the goal at the end of the day. These guys are trying to kick it old school. They're trying to be true to the art form of brewing by producing beers made in an old fashioned way while still being fresh and innovative. Like with all things in life; what's considered old soon becomes popular again, and maybe these guys have tapped into something amazing her.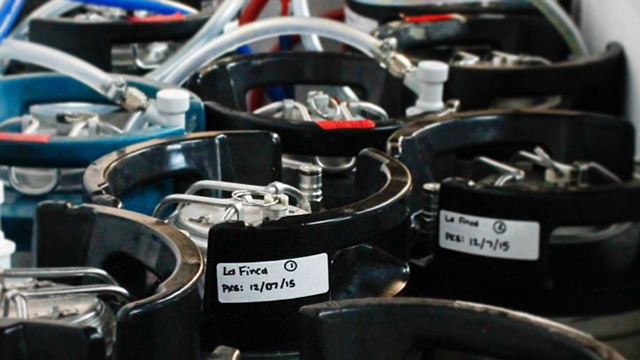 Their flagship beer lineup is homage to their guiding principles of "believing that being a cut above isn't about cutting corners, but about combining the latest innovations with superior attention to detail and time. Honoring brewing techniques to create unique, complex flavor profiles as vibrant and diverse as the city we call home." In short, they call it "liquid innovation.
So what are these guys innovating in their brew lab? Their first flagship beer is La Finca Miami Saison. A traditional Belgian Farmhouse-style Ale, it's clean, crisp and perfectly refreshing for the South Florida outdoor life. Not overly sour, but perfectly tart, with a solid malt base which creates balance and structure. Great fruit esters and spice character bring the whole brew together.
Next up is Freedom Tower Amber, named after the historic Miami landmark. This American Amber Ale pops with assertive hops countered by lush toasted caramel and toffee notes. It has a dry, light finish with dried stone fruits lingering in the background and a medium-body mouth feel.
Last up is the namesake beer, The Tank IPA. They best describe it as, "A bright, golden orange ale, boasting an intense hoppy nose of citrus and tropical fruit. A firm but smooth bitterness with undertones of biscuit lingers from start to finish."
You can expect these beers to hit the market in about a month. According to Victor Castro, Sales Director, the plan is a 6-week roll-out campaign throughout Miami-Dade, Broward, Monroe, and Palm Beach counties. Bottling of the beer won't be online until about the end of the year, so keep an eye out at your local drinking establishment for these selections.
They also plan on releasing several specialty beers, one of the first to be Byronic Brown, named after the Lord (Byron) himself. Chockfull of nutty, caramel aromas and jam-packed with chocolate-malty flavor. A superbly balanced and very drinkable brown ale - a flavor I wish was still produced this way. They are also looking into seasonal lines like an Abbey Ale series, a single hop varietal lineup and a barrel-aged series thanks in part to their on premise, barrel room which will boast an open space for private events and corporate outings. But that's not the only amenity they have planned for their facilities.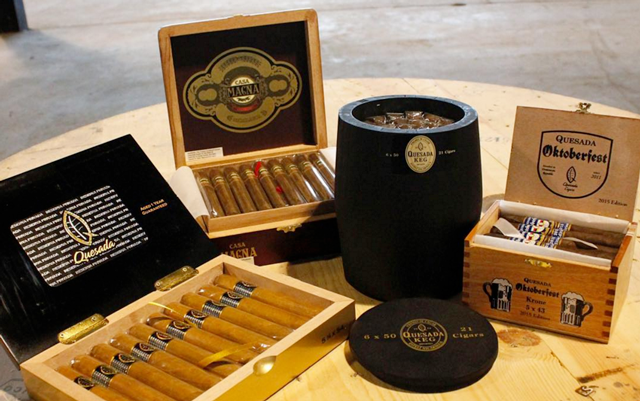 Scheduled to open in June, the tap room will not only feature their excellent beer selection, but ALSO a growler station, some fine eats to munch on and an open game space to entertain the hoarding masses. If that's not enough to get excited about, then perhaps a full-service cigar room will. In conjunction with Carlos' other business, Family Tobacco Traders, they plan to satisfy the smoking fancies of their patrons with  vintage-inspired room with dark wingback chairs and an impressive offering of sticks.
Marketing Manager, Stefano Medina, said it best, "Tank's story is one of a homegrown passion." It's bold and unpretentious and proudly brewed in the heart of Miami.
Tank Brewing Company is located at 5100 NW 72nd Avenue, Miami, FL.