[map]
Celebrated and award-winning chef Scott Conant's Corsair at Turnberry Isle Resort in Aventura exudes luxury from the moment you enter the elegant dining room. Lush golf greens surround you as you slip into Chef Conant's refined culinary style. Using local, seasonal ingredients where ever possible, Corsair's rustic menu draws inspiration from American farmhouse cooking blended with rich Mediterranean cuisine.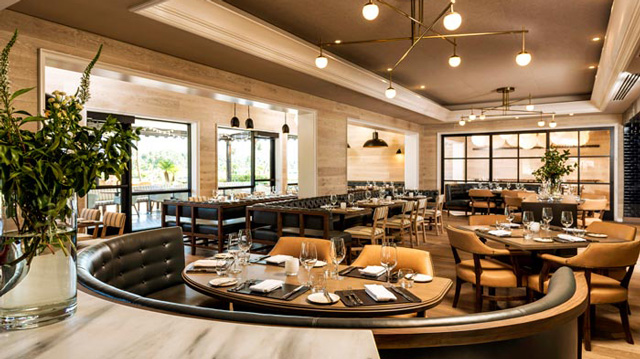 Corsair is sophisticated and delightfully uncomplicated. This is evident in the eloquent selections offered on their Miami Spice menu. We recommend starting with the Hamachi Crudo. Fresh yellowtail is lightly drizzled with ginger oil and topped with subtly sour pickled rhubarb and spiced chilies adding just the right amount of kick to the dish.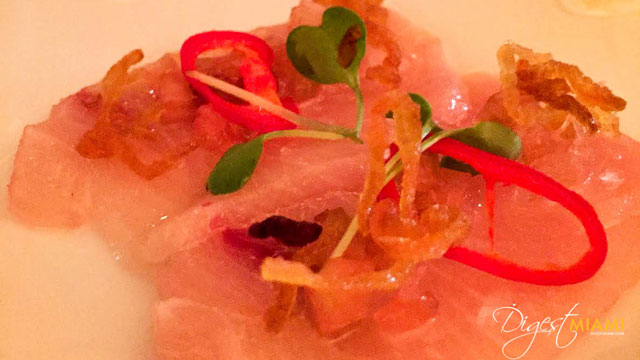 Hamachi Crudo
The hearty Squid Ink Campanelle pasta is as good as we have ever had anywhere and it is a must try. Baby clams, mussels, calamari and scallions are combined in a creamy sauce. The pasta is served al dente and the generous portions will satiate even the hungriest of diners.
The Honey-Pine Nut Semifreddo was our dessert of choice. The semi-frozen custard is garnished with raspberries and served with delicious lemon cream for an exquisite intermingling of fruity and nutty flavors.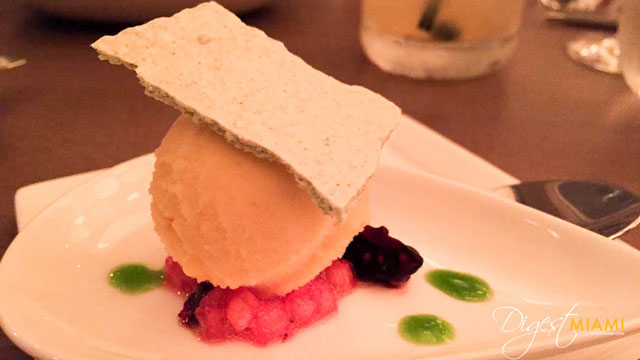 Honey-Pine Nut Semifreddo
Priced at just $39 per person (exclusive of tax and gratuity) Corsair's Miami Spice menu is available Sunday - Thursday from 5:30PM - 10:00PM and Friday - Saturday from 5:30PM - 11:00PM. Reservations are highly recommended and can be made here.