GK Bistronomie is the sultry creation of Chef Rafael Perez Cambana, located in the heart of the Wynwood Arts District. Its modern architecture and artsy interior bring together nautical illustrations, intricate mirrors and vitalizing music over aqua-toned table settings. gkbistronomie.com
---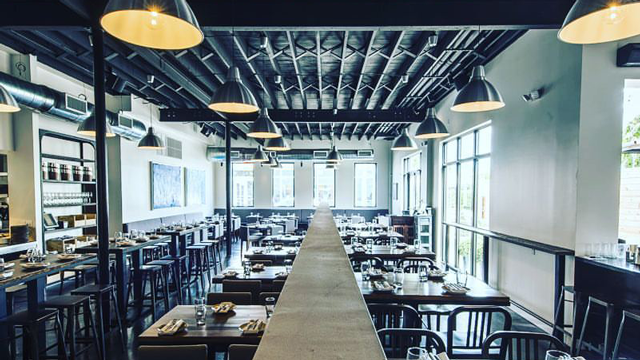 Wynwood's first Peruvian-centric restaurant is now open. GK Bistronomie offers a new casually chic dining concept helmed by Chef/Partner Rafael Perez. Although you can expect a menu that pays homage to Peruvian cuisine, dishes are overflowing with exotic flavors from around the world.
Located across from Wynwood Walls, guests are greeted through a charming garden alley equipped with a bar that extends into the interior space. The outdoor portion of the bar seats just 4 guests. The interior dining room is industrial and loft-like with floor to ceiling windows that shed an abundance of natural light.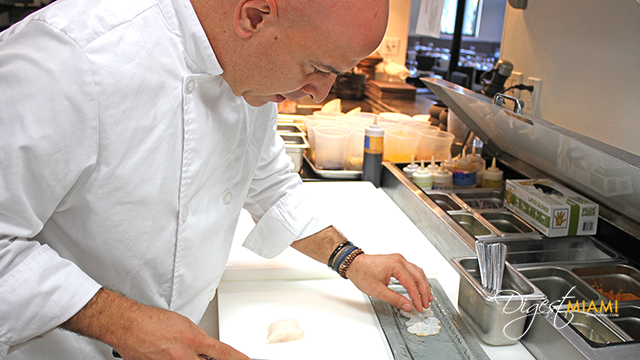 Chef/Partner Rafael Perez Cambana
Honored by the Relais & Chateaux Guide with the title of Grand Chef for leading one of the top 300 restaurants in the world, Perez's 20 years of experience extends throughout North and South America. He brings the best of his culinary background to GKB. "We chose the most popular dishes from all of my experiences to create this menu."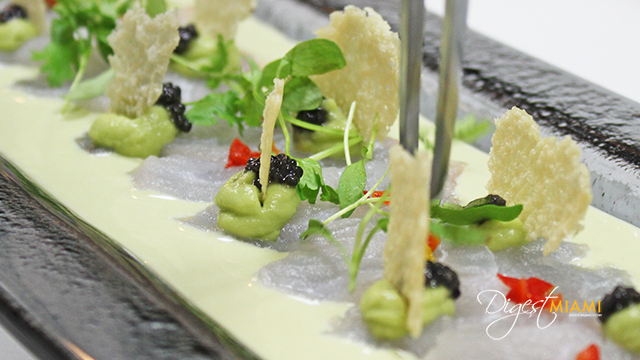 Grouper Tiradito, Parmigiano Reggiano, Lime, Rocoto, Chives
Each section of the menu features two or three classic Peruvian dishes, but our favorite options are those imbued with a little twist. Chef Perez shares that although they respect Peruvian cuisine, they want to be open to other influences. Grouper Tiradito ($14) is served with a parmigiano reggiano cream instead of the usual aji amarillo, a common yellow pepper sauce. Crisp calamari ($15) are tossed with Thai chili and served on a bed of green mango.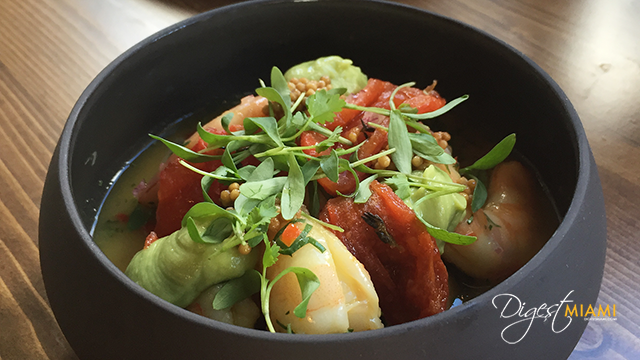 Cherrywood Smoked Key West Shrimp Ceviche, Heirloom Tomatoes, Orange, Lime, Cilantro, Green Plantain, Mustard Caviar
Perez implements traditional techniques in some dishes such as the Key West Shrimp Ceviche ($17). No red onion is added to this recipe, instead he incorporates mustard caviar, orange and lime to yield bright citrus flavor with a touch of texture. Creating an elevated presentation, the dish is uncovered at the table revealing an aromatic cherrywood smoke.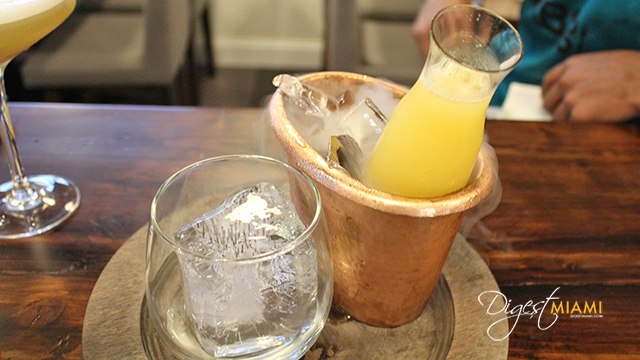 Wynwood Sahumerio, Absolut Ekyx, Starfruit, Orange, Darjeeling & Chamomile
The sensory experience also extends into the cocktail menu developed by mixologist, Jossímar Luján. Cocktails are prepared with combinations of herbs, spices and fresh tropical fruits ranging in price from $12 to $15. Subtle ingredients are added to enhance each libation such as the Wynwood Sahumerio. Sahumerio, in Spanish, is the act of cleansing the air with scent. Drops of Yuzu oil are added to dry ice to create a dramatic and fragrant presentation. Luján explains the bar menu was created to awaken the senses and balance the dining experience.
In a neighborhood where colorful art visually teases us, GK Bistronomie satiates all of our sensory cravings.
GK Bistronomie is open for lunch Monday through Saturday from 12pm-3pm. Dinner service takes place Monday through Wednesday from 6pm-11pm, and Thursday through Saturday from 6pm-11:30pm. The restaurant is also open late-night Thursday-Saturday from 11:30pm-1:30am. GKB is located at 218 NW 25th Street, Miami, FL.