Stay cool, Miami.
It doesn't get any hotter than Miami in summer. Escape the sweltering streets and beat the heat with Miami's best iced treats. From antique favorites to modern twists on old classics, we searched all over the city for this summer's best frozen bites to keep you cool all summer long!
Veni Vidi Vici
8425 Biscayne Boulevard, Miami, FL 33138
Walk into Veni Vidi Vici to be greeted by both an atmosphere and owner whose unique flavor rivals the Italian ice itself. With its cozy and warm living room feel, Roberto D'Angelo makes you feel right at home in this combined bookstore, cafe, lounge, and Italian ice shop. Have a seat on one of the plush couches and browse through over 6,000 books while enjoying Miami's best Italian ice. Imported exclusively from a Philadelphia family who claims to own the oldest ice in America (dating around 1910-1920), Veni Vidi Vici is proudly the sole vendor of this exquisite ice outside the state of Philadephia. With no added syrup or sugar, this flash frozen pureed fruit is the ultimate summer cool down. Summer flavors include cherry, mango, blueberry, watermelon, and piña colada, which can also be served in a glass of wine – a house specialty not to be missed. Indulge in a red or white wine Italian ice combo such as the "Dolce Tropicale," a crisp spumante paired with lemon, mango, and piña colada ice.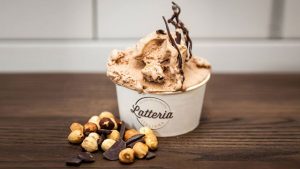 Latteria Italiana
3301 NE 1st Avenue, Miami, FL 33137
Founded on the concept of stepping back from the fast food experience and going back to traditional latteria origins, Latteria Italiana brings a classic Italian concept to the heart of Miami. Founder Antonio Carrozza loved gelato since he was a kid, and transformed his love for gelato into a business in Miami, which he believed to be "the place to be right now." Latteria's gelato is made daily at 5 A.M. "with love" from real fruits hand selected each morning. Latteria's process keeps it simple: no powders, just milk, a little cream, and sugar. Come in every Friday for unique flavors such as buffalo mozzarella and rosemary coconut, original flavors found nowhere else. Carrozza's favorites include a delectable Ferrero Rocher chocolate and pistachio, which is made with nuts shipped directly from Italy and therefore providing the richest flavor in town.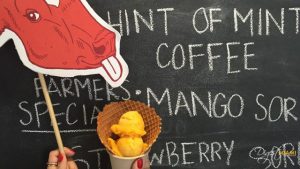 Lulu's Nitrogen Ice Cream
2001 Biscayne Boulevard, Miami, FL 33137
We challenge you not to be blown away by the amazing smell you'll be greeted by when walking into Lulu's Nitrogen Ice Cream. Founder Luisa learned how to make nitrogen ice cream off the internet while in college in DC, making her first batch out of her dorm room. The nitrogen ice cream process allows for the use of the freshest ingredients, and is made right in front of your eyes within minutes. Luisa says the flavor which best represents the store is mango, since the mangos are all organic and brought in locally from Homestead and therefore very Miami. Since the process minimizes ice crystals, the final product has an incredibly smooth and creamy texture, making for the perfect summer frozen treat!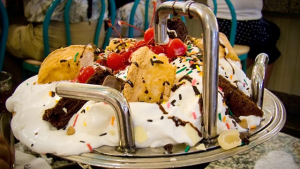 Jaxson's Ice Cream
128 S Federal Highway, Dania Beach, FL 33004
Walk under the luminous sign and through the front door of Jaxson's and be transported to a time gone by. Founded in 1956 by Monroe Udell, Jaxson's has been a favorite for locals and visitors alike since its inception. Their rich and creamy ice cream is still made the same way it was from the very start, a method which has more than prospered throughout Jaxson's multi-decade reign over South Florida. You'll get lost in time while enjoying a freshly popped batch of buttery popcorn and taking in the vintage license plate covered walls as you wait for your ice cream. If you hear a siren fear not – for a special treat is on it's way. The "Kitchen Sink," Jaxson's iconic special, comes packed dense with over twelve scoops of ice cream, a siren greeting, and naturally, a real kitchen sink. You'll leave not only with a satisfied sweet tooth, but an unforgettable experience.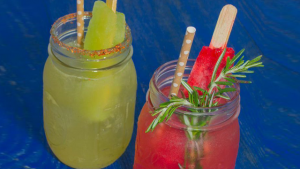 Coyo Taco
2300 NW 2nd Avenue, Miami, FL
What could go better with a taco, than a Margarita… How about a PaletaRita?! Step through to discover Coyo's hidden bar area where a collection of tequila and handcrafted Margaritas served with a Mexican popsicle dipped inside, available in flavors like passion fruit, chili-lime and strawberry, to name a few.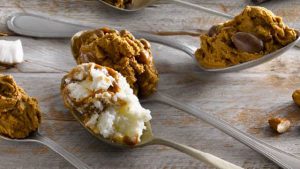 Freddo
610 Lincoln Road Mall, Miami Beach, FL 33139
For authentic and all natural Argentinian flavor, look no further than Freddo! Imported directly from Argentina and tested for taste quality, Freddo packs maximum flavor into a mere 200 calorie serving. Freddo has a very select procedure for making their ice cream, which is a little healthier than the norm since it's made with low fat milk. With a variety of unique flavors including Zambianone, a flavor made with wine, you'll never run out of fresh new options to sample! Come in and try their staple speciality flavor, Dulce de Leche, or their special Panini Gelato, a panini made with hazelnut and peanut butter with a texture reminiscent of the inside of a Ferrero Rocher.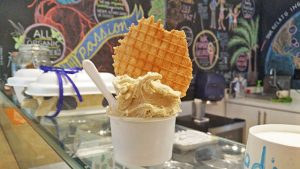 Bianca Gelato
3137 Commodore Plaza, Miami, FL 33133
It's impossible to ignore the savory and fresh smell when walking into Bianco Gelato. Made all organic with no GMO's or hydrogenated fats, Bianco Gelato boasts some of the healthiest and richest gelato in Miami. What makes family owned and operated Bianco Gelato so special is their richness of flavor in the absence of unhealthy additives and ingredients, meaning customers can really appreciate the flavors without all the guilt. Everything is made from scratch, including their large vegan selection for those looking for a vegan gelato alternative! Most popular flavors include salted caramel and cookies & cream.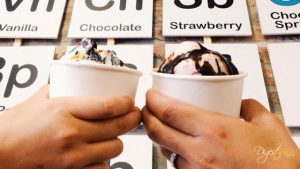 ChillN Ice Cream
17831 Biscayne Boulevard, Aventura, FL 33160
Created by college student Danny Golik in his basement, ChillN Ice Cream is a can't miss this summer! After working with nitrogen and recipes for six months, Golik finally created the perfect pairings and opened ChillN, which he designed to be a laid-back environment that was tasty and easy to understand. ChillN's process enables customers to mix over a dozen flavor bases, ice cream, or yogurt with over two dozen toppings in order to create your perfect summer treat. Flavor bases include chocolate, coffee, and nutella, with toppings ranging from oreos, pop-tarts, and even krispy kreme donuts! Since their ice cream isn't put into freezers and instead is created on the spot, there is no freezer burn and thus creates the smoothest possible product.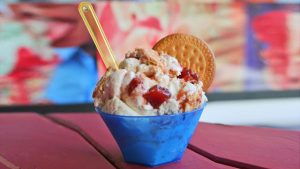 Azucar
1503 SW 8th Street, Miami, FL 33155
Located at the heart of Calle Ocho, Azucar brings the taste of Cuba to the center of Miami. The owner's abuela – grandmother – used to make ice cream, inspiring the business as well as the authentic flavors. Azucar is home to a variety of homemade and unique Cuban flavors, including a mouthwatering flan! Their specialty flavor, called "Abuela Maria," combines graham crackers, guava, cream cheese, and vanilla ice cream which absolutely explodes with a flavor found nowhere else. Enjoy your Abuela Maria while sitting in the store's vibrant atmosphere packed with color and culture!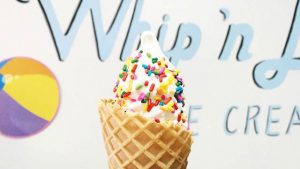 Whip & Dip
1407 Sunset Drive, Miami, FL 33143
Tucked away in the Gables you'll find Whip 'n Dip, who's happily been serving their delicious ice cream for the past three decades. Indulge in some free homemade cookies while deciding from their wide assortment of colorful flavors, including nine specialty flavors and seasonal flavors such as mango! All homemade, Whip 'n Dip's tasty ice cream is all homemade with no fat and no cholesterol, making for a guilt-free midday treat. It's rude to show up empty handed, so grab a cake to go as the perfect compliment to your ice cream!