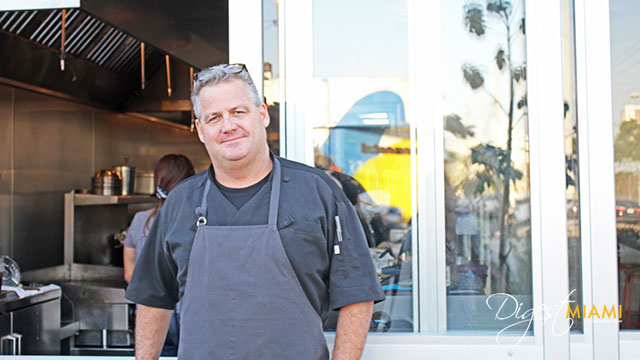 Meet the American chef who has cooked Mexican food for gringos for nearly 20 years. Armed with a broad knowledge of Mexican cuisine, Scott Linquist is the Executive Chef of the recently opened Coyo Taco taqueria in Wynwood.
He comes to the 305 from an extremely vast culinary background. Not only was he part of a great collaboration in opening a total of seven Dos Caminos restaurants throughout New York, New Jersey and Florida, but also El Toro Blanco (Best New Restauant in NYC 2012), Barton G Miami, Barton G Los Angeles and Il Sole at The Villa by Barton G.
How does one go from Barton G to tacos? Linquist chose the adventurous path of Mexican cuisine back in 1991 in Santa Monica, California. He ventured on this path while working as an extern in culinary school. While other chefs were pursuing foie gras dreams and black truffle wishes, he kept true to his "corazon Mejicano." After becoming deeply immersed in the diversity of the cuisine, he sold his soul to Mexico and explored the various nuances of each Mexican region.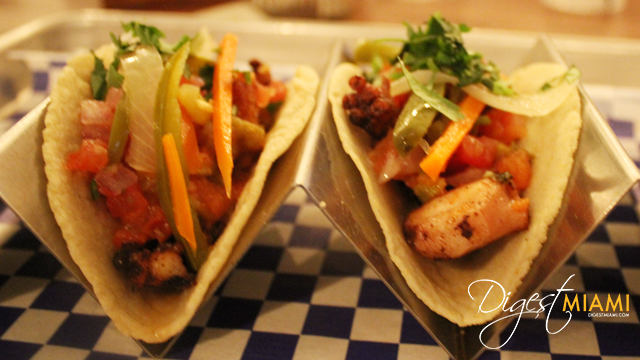 People think Mexican food and immediately think enchiladas smothered in melted cheese. That is so not the case. Mexican food is complex and one of the most complicated cuisines to execute properly. Understanding a country's culture, history and art helps us understand the food.
What does it take to make the perfect taco? While staying true to the roots and authenticity of the cuisine, Linquist has outlined a few guidelines to keep in mind.
Rule number one: The tortilla makes the taco. At Coyo, a tortillera hand presses corn tortillas, one by one on the plancha (griddle). Sure, a machine would be faster, but that is not Coyo's style.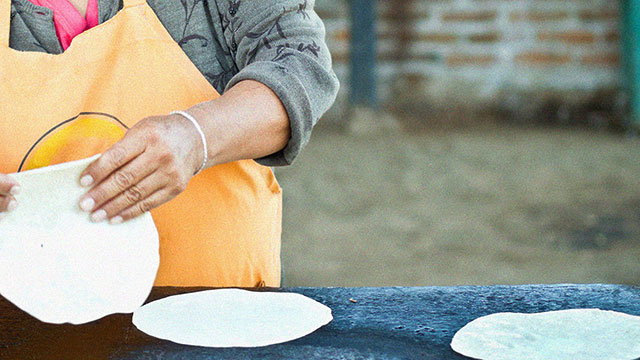 Rule number two: Corn tortillas over everything else. When pressed on the plancha, unlike flour tortillas, corn tortillas will puff up like a balloon, giving them a soft, moist texture. Did we mention that corn tortillas are also gluten free? (More about the healthier options later.)
Rule number three: A taco should be ready to eat. In Mexico, a taco is made up of meat, onion and cilantro. American food geeks expect way more. So how do we make Mexican street food work for the American consumer? Ladies and gentlemen, welcome to the era of the composed taco. It already comes with the proper amount of salsa, condiments and garnish. Do you like things a little spicy? They have a variety of salsas for you to choose from.
Scott's goal is to stay true to the roots of genuine Mexican cuisine. Coyo's dishes are authentic, yet approachable for the Miami crowd. The interesting thing about Mexican food is that it does not try to be high end or upscale. People native to the country eat tacos in their homes or in a market or in a taqueria. With Coyo, we now have the concept of an authentic taqueria but with some foodie flare.
Now about these "forbidden" flour tortillas. Well, maybe they're not completely forbidden. Coyo uses flour tortillas for their burritos, quesadillas as well as their Shrimp and Fish tacos which use Florida Gulf Shrimp and local mahimahi. (Did you know that burritos and quesadillas are not typically considered Mexican food?) Coyo's Shrimp and Mahi Tacos are inspired by their roots in Baja California. Coyo presents them wrapped like a sushi hand roll so that they are folded under when you pick them up and the condiments don't fall out. Remember, these tacos are the exception and not the rule.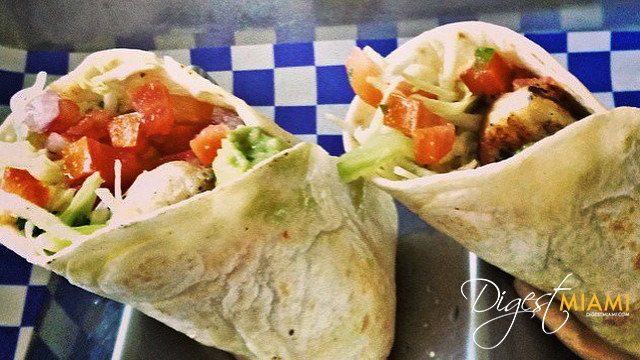 Our personal favorite is the Carnitas de Pato. Carnitas literally means "little meats" and is traditionally made by braising pork in lard along with some aromatics. Coyo does carnitas with a twist by shredding duck confit and adding cinnamon, allspice, garlic, chipotle, thyme, oregano, Mexican Coca Cola, orange juice and condensed milk. The confit process renders out the fat, but keeps in the moisture. The duck is then seared a la plancha for a crispy texture on the outside. The combination of spices and Serrano salso give these little guys a lot dimension.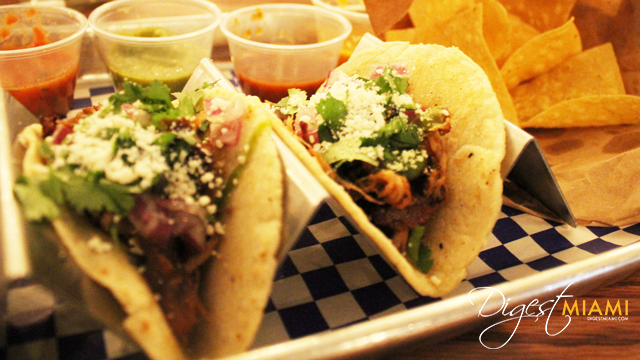 We need vegetarians to answer a question honestly. Do you really want to eat a salad every single day? We didn't think so, and neither did Chef Scott. Coyo has several options for our health conscious community. One of our favorites is the Hongos (mushroom) taco, made with locally grown huitlacoche (corn smut… don't worry, it's safe and delicious!) and queso cotija.
Another savory option is the Quinoa taco, made with quinoa falafel, cilantro greek yogurt sauce, and cucumber pico de gallo. Chef Scott experimented with adding napoles (prickly pear cactus), locally sourced from Homestead, to this taco and it worked so well!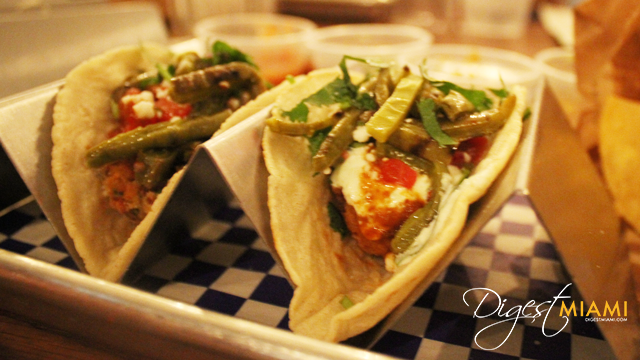 What could go better with a taco, than a Margarita... How about a PaletaRita?! Well step on through to discover Coyo's hidden bar area where restaurant partner and mixologist, Anna Robbins curates a collection of tequila and handcrafted Margaritas served with a Mexican popsicle dipped inside, available in flavors like passion fruit, chili-lime and strawberry, to name a few.
Not a fan of margaritas? It's okay, Anna will forgive you. Try the Paloma cocktail, made with fresh lime juice, silver tequila and Mexican Squirt soda served in a tall glass with a salted rim and the squirt bottle on the side.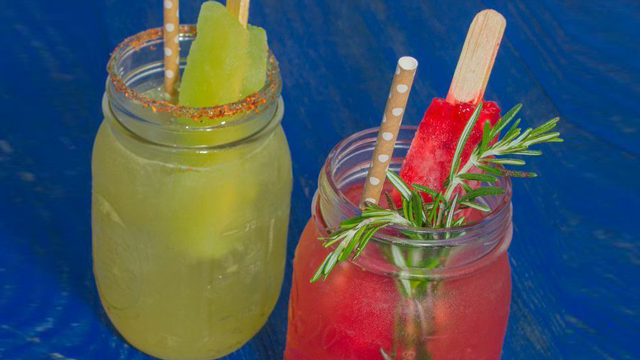 So why did restaurant team members Alan Drummond, Sven Vogtland and Anna Robbins choose Scott Linquist as Executive Chef? Besides the fact that he's traveled and studied the cuisine of several regions of Mexico for over 20 years, he has truly mastered the art of selling to gringos. The reality is, you can't just pull the food off of the street in Mexico and sell it to Wynwoodians, but with imagination and a genuine passion for Mexican cuisine, Chef Scott creates recipes that are deliciously approachable for everyone. 
Visit Coyo Taco, located at 2300 N.W. 2nd Avenue, next door to Panther Coffee. It's open 7 days a week, 8am-11:30am for breakfast, and 11am-11pm for lunch & dinner. Stay tuned for more exiting developments from our new favorite taqueria!