Devon Seafood + Steak is the new and sexy addition much needed in the 'burbs. Situated on the waterfront of the Palms at Town and Country in Kendall, Devon embraces an elegant nautical-inspired theme accented with warm wood panels, an impressive glass-enclosed wine cellar and an eye-catching open-style kitchen. With Executive Chef Scott Barrow helming the kitchen, we embarked on an outstanding oceanic culinary journey that highlighted Florida's freshest seafood bounty. We were led through the main dining area separated by a sheer metallic curtain with the word "Galley" displayed. On a ship, the galley is the compartment in which the food is cooked and prepared.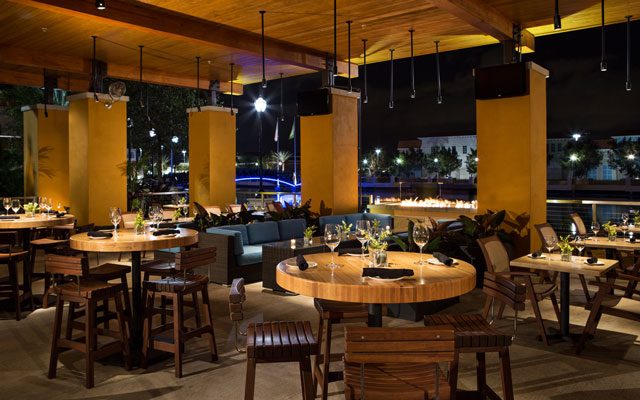 Devon plays with this theme and takes pride in serving only the "top of the catch," with a menu that changes daily to feature the freshest, local seafood available from artisan purveyors. After several years as Executive Chef at Devon Seafood + Steak in Chicago, Scott Barrow continues his passionate drive for seafood and sustainability in the critically-acclaimed Kendall location. His "keep it simple" approach to cooking was recognizable throughout our dinner with subtle flavor enhancements to each dish.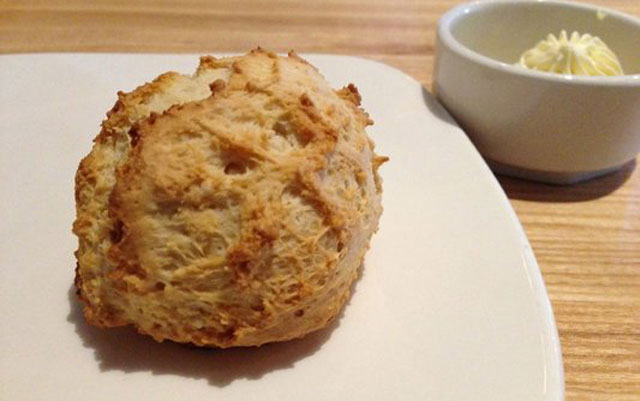 We began our evening with mouth-watering, sweet buttermilk biscuits served hot and fresh to the table followed by Lobster Tamale ($10), a twist on a Spanish favorite. With corn, cilantro, avocado crema and roasted poblano chili pepper, the tamale is full of authentic Mexican touches and the buttery goodness of fresh lobster.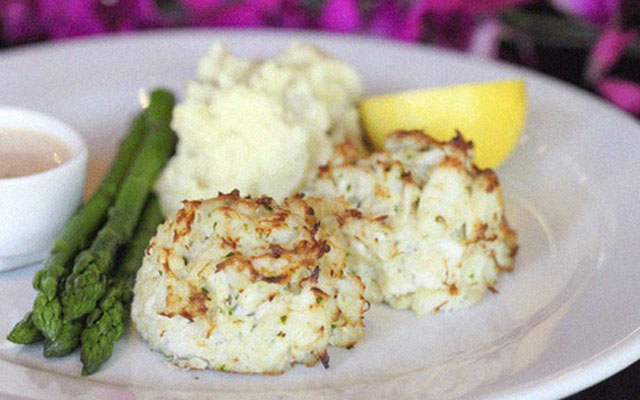 Next, we enjoyed Jumbo Lump Crabcakes ($16), fresh with a flaky crust that excited the palate when dipped in the spicy creole remoulade and mango tartar sauce.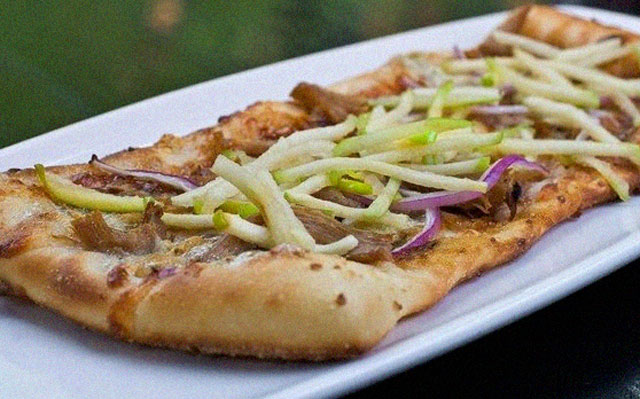 One of our favorite dishes was the Roasted Duck Flatbread ($10), a rich and hearty dish served with a house made fig barbecue sauce. The sweet and tart flavors of fig and granny smith apple were a spectacular combination with fontina, provolone and gorgonzola cheeses. Topped with red onion and thyme vinaigrette, this dish was an explosion of flavors.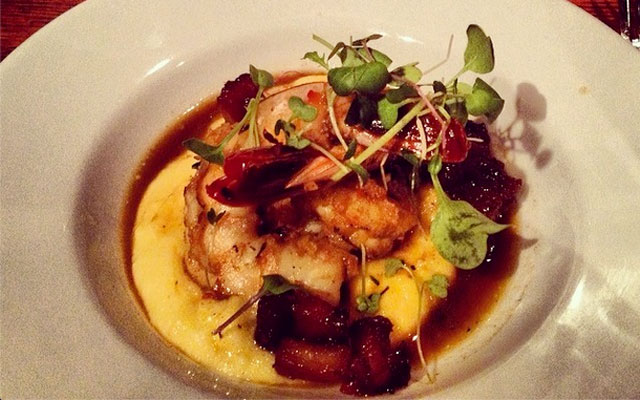 Another favorite was a twist on the classic North Carolina favorite, Shrimp and White Cheddar Grits ($12). Once you got a spoonful of the tomatoes, bacon, chives and espelette pepper, it is as if you are transported to a Charleston Bed and Breakfast Inn before going out on a fisherman's boat. The espelette peppers added a subtle spice that contributed just a hint of piquant to this amazing dish.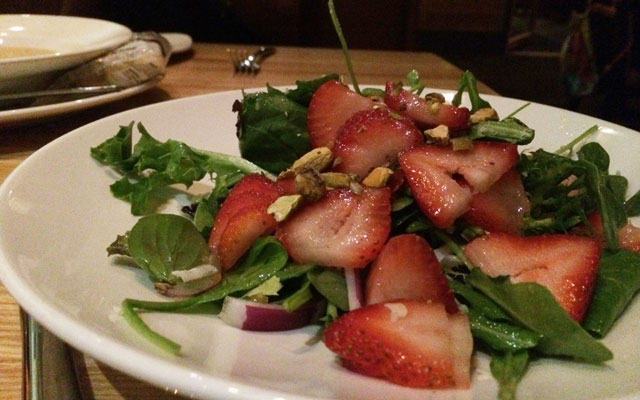 The Strawberry and Pistachio Salad ($7.50) was a blend of spinach and arugula balanced with the sweetness of a sherry vinaigrette and perfectly ripe strawberries. Topped with red onion, hard reggiano parmesan cheese and pistachios, the salad was filling and delicious.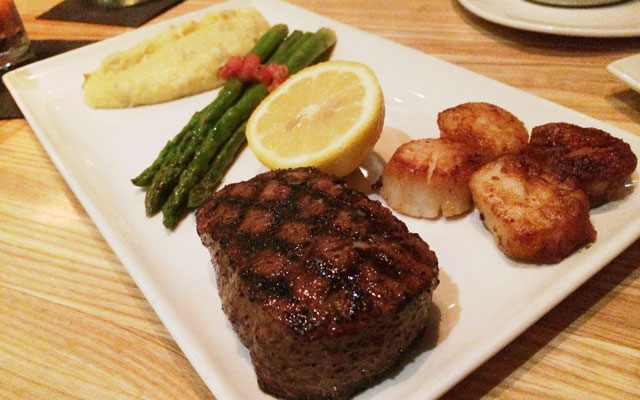 Another spectacular entree was the 6oz Filet Combo ($46) with seared scallops, yukon mash and grilled asparagus. The Filet Mignon was cooked to a perfect medium rare temperature, pink with traces of red. It was tender enough to cut with a feather and perfectly seasoned. The seared scallops were perfectly paired with the Laurenz "Singing" Gruner Veltliner from Austria, completely altering the wine's flavor composition, turning it from a smooth a crisp libation, to a fruity distinctive white that really cuts through the buttery flavor of the seared scallop. A side of the Lobster Mac and Cheese ($4.50) was the perfect addition to this meal. Chunks of buttery lobster enhanced the moist cavatappi pasta and cheeses, topped off with green onions and parmesan. Besides the dishes shown, we also indulged in the Maine Lobster Bisque ($9.50), rich and creamy with a generous lump of fresh Maine Lobster. As an entree, the Seafood Mixed Grill ($38) was a nautical masterpiece with shrimp, grilled scallops, a jumbo lump crab cake, grilled salmon on whipped yukon potatoes and grilled asparagus with just the right amount of seasoning. Our dessert selection was a decadent Carrot Cake ($9) with pecan praline filling, then topped with sweet cream cheese and toasted coconut and bathed in a delicious vanilla créme anglaise sauce. Throughout the evening, we took notice of the attentive maître d' and wait staff ensuring an enjoyable visit for all guests. Next time you find yourself in Kendall and need to escape the daily grind, visit Devon for a deliciously upscale dining voyage.