Bobby's Burger Palace (BBP) presents 10 signature burgers inspired by Chef Bobby Flay's extensive travels throughout America and love of the grill in a convenient casual setting.
From north to south, coast to coast, each BBP burger is Bobby's tribute to America's regional flavors and traditions, made with Certified Angus Beef and served on a sesame seed bun. Sides such as French Fries served with BBP Fry Sauce and Beer Battered Onion Rings along with Griddled Cheese sandwiches, Milkshakes & Malteds, sodas, and alcoholic refreshments are available to create the ultimate BBP meal.
All burgers may also be prepared with ground turkey, chicken breast or served Topless, where the burger is simply stacked onto a bed of greens without the bun.
Bobby also reminds you to get your burger crunchified, which means to top any BBP burger with crisp potato chips at no additional cost.
Bobby Flay opened his first burger joint in Florida at Dadeland Mall's new two-story wing. A giant step up from your standard fast food burger joint, Bobby's Burger Palace is already winning over locals with a selection of signature burgers, including the Cuban sandwich-inspired Miami Burger.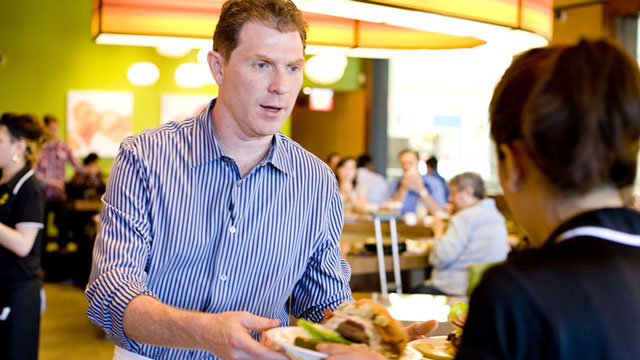 "I love coming to Miami," Flay says, "It's one of my favorite food cities, so I was really excited to bring BBP here. We also have a great relationship with Simon Malls, so we were thrilled when they asked us to be a part of their new wing."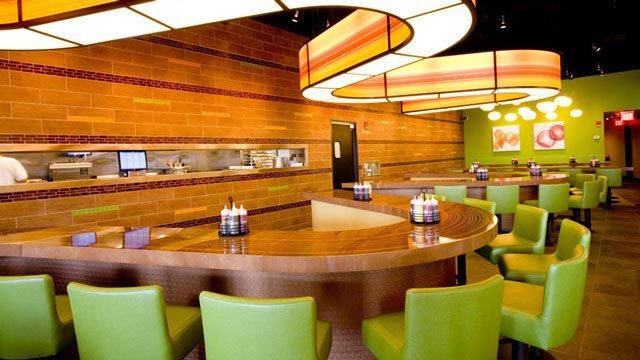 The bright colors of the new interior match Flay's bold flavors, while half-circles create a warm dining atmosphere that invites guests to really engage with each other. And you can forget about walking around with those annoying trays - BBP offers friendly table service. Place your order at the counter, take a number, and find a seat.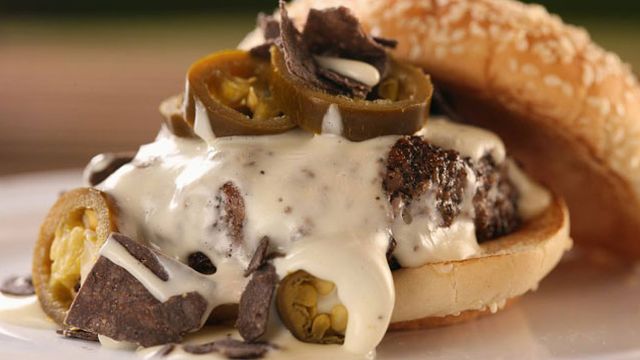 Each BBP burger is made with 6 ounces of certified Angus Beef. We ordered the Crunchburger ($6.75) (a take on a classic cheeseburger) and the Santa Fe Burger ($7.75). The burgers were made to order and cooked the way we like- medium rare. Both were full of Flay's signature flavors without the greasy mess!

We also tried a selection of side orders, our favorite was the Sweet Potato Fries ($3) served with a tangy honey mustard horseradish sauce.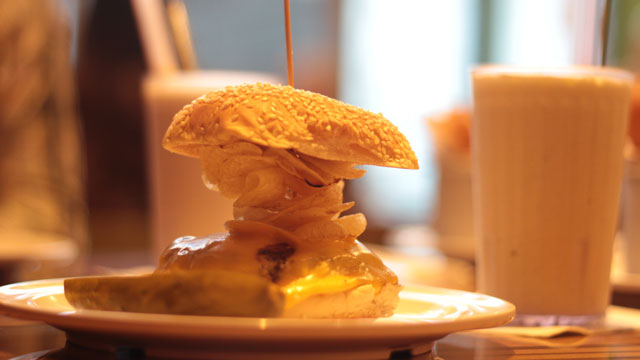 "The inspiration for BBP has always been to celebrate the diverse regional flavors of America, and I've expanded the menu to recognize even more of those regional flavors. The new menu introduces the Vegas Burger, Carolina Burger, and New Mexico Burger."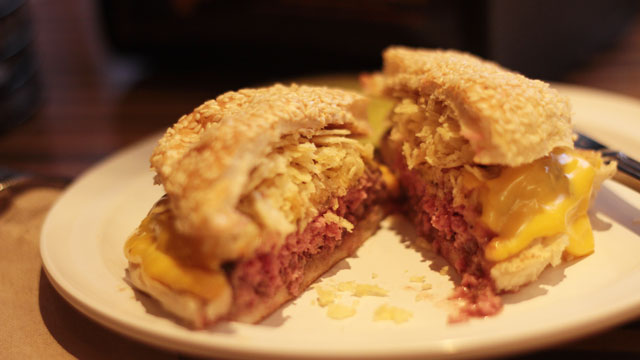 We also love the concept of getting a burger "crunchified" and asked Flay about the inspiration, "I love potato chips, and I love putting potato chips on my burgers, so it was something that I wanted to be able to offer my customers. We place a layer of crispy chips on top of the melted cheese, giving it a nice texture, bite, and saltiness. Everyone should try it. At BBP, we crunchify any burger for free."
Bobby's Burger Palace also offers a great selection of sides including French Fries served with BBP sauce, Beer-Battered Onion Rings and outrageously delicious milkshakes. Flay's favorite burger-milkshake combination? "My personal favorite… is a crunchified LA Burger and a pistachio shake. The pistachio shake is the cult favorite among BBP fans." TIP: Don't leave without trying the Pistachio Milkshake ($5).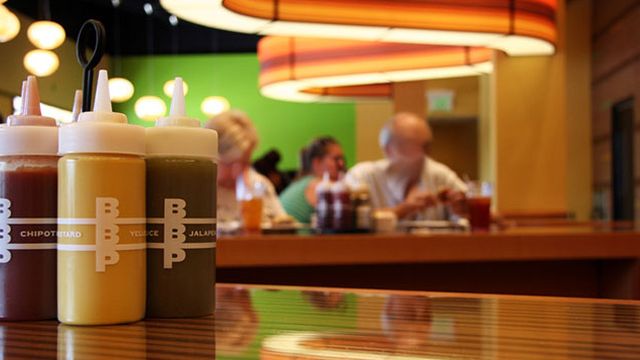 Although there are no immediate plans for another South Florida BBP, Flay says they are always on the lookout for new locations. If you can't make it to Dadeland Mall, try grilling your own burgers at home with this one important tip from Flay:
"I can't emphasize this enough: make sure the cheese is melted all the way through. It may seem like a small detail, but it makes a huge difference to the taste of the burger. And it's very easy to do."