PUBLIC SQUARE
Located on the corner of Red Road and San Ignacio Avenue,
Public Square
redefines casual elegance with a chic, inviting, dining room and inventive, contemporary menu featuring fresh American fare with artisanal ingredients. The restaurant has seating for 170, and while large, is still inviting and cosy with elegant, modern, chandeliers towering above plush, forest green leather booths flanked by artfully-decorated bookshelves. Guests can dine at the spacious, gray-veined quartz bar that seats 30, or choose a more intimate setting at one of the many socially distanced tables.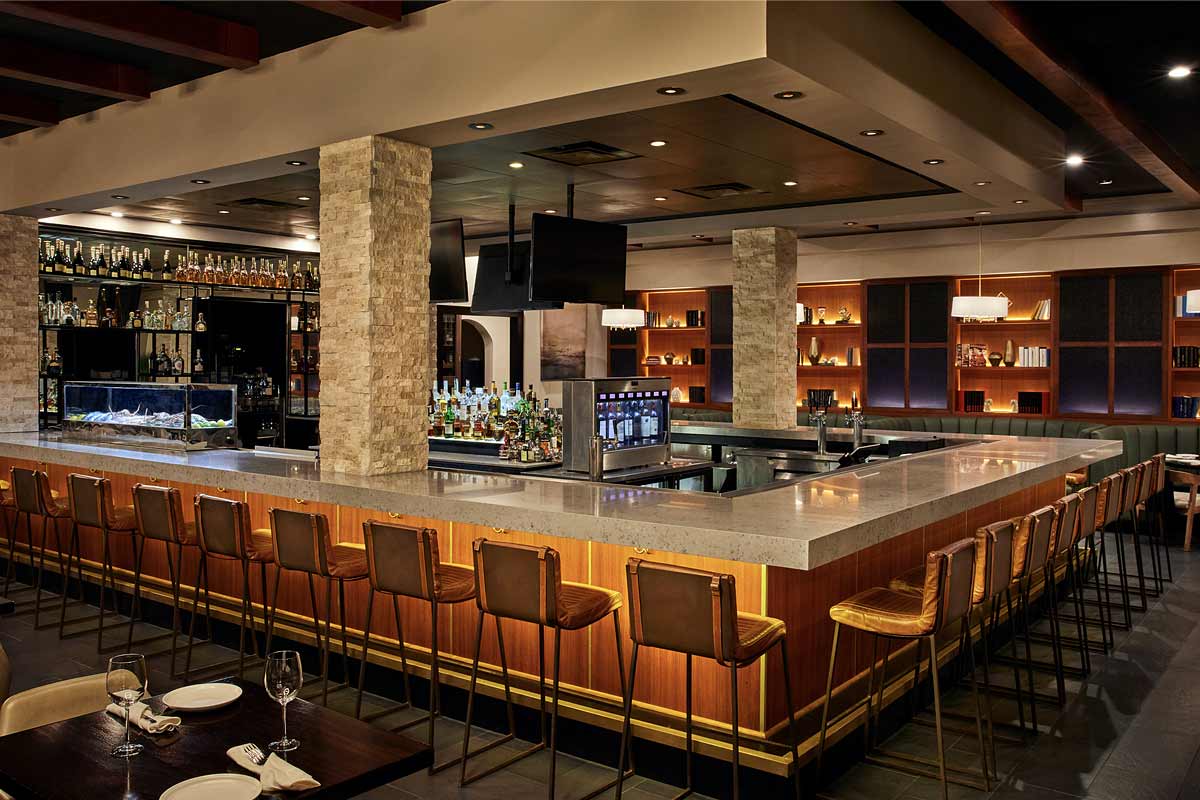 Start your dining experience with one of the many creative craft cocktails fashioned by mixologist, Nick Casanova cocktails like the Miami Sidecar, Courvoisier, Bacardi Oakheart, lemon juice, mango purée, the Citrus Boulevard, the 1792 Bourbon, citrus infused Campari and orange or the refreshing Maccaw made with Absolut Elyx, citrus infused Aperol, passionfruit, pineapple & lime juice. Public Square, with a well-rounded wine program that features selections from California and West Coast vintages and are 100% temperature controlled. A robust wine-by-the-glass list features eight (8) bottles of specially-curated 96+ point and above wines available as single pours. For true wine aficionados, there is an exclusive Wine Vault program that provides members a personalized "wine vault" within the restaurant that houses their favorite bottles, available to them each time they dine, and comes with members-only experiences and several other benefits.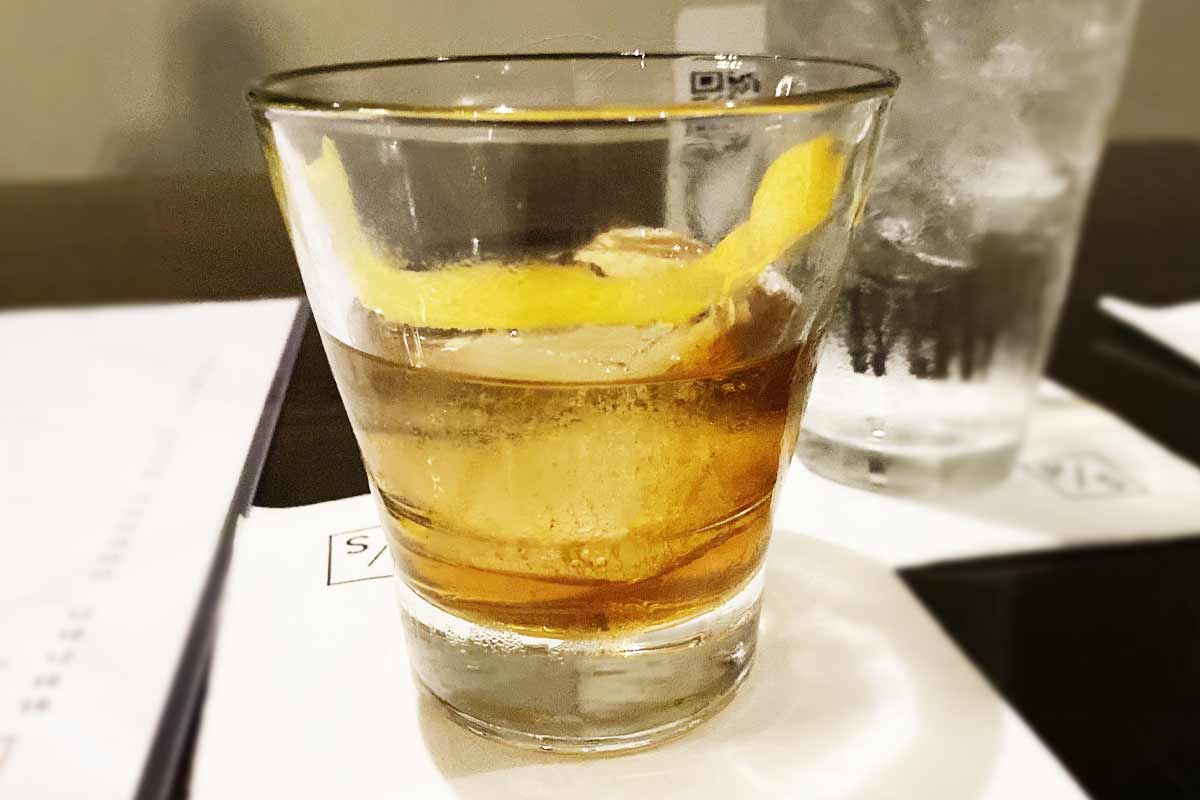 Appetizers include Filet Mignon Bites, Applewood bacon-wrapped black angus beef, mango salsa and crispy brussels sprouts; and Grilled Octopus Torchon with piquillo peppers chimichurri, balsamic reduction, crispy potatoes and micro basil. A fresh Sushi & Raw Bar on display offers dishes such as Poached Lobster, a 2 lb. lobster topped with paddlefish caviar, orange segments, passion fruit aioli and micro cilantro, served atop the whole lobster shell; Shrimp Cocktail with Florida pink shrimp, cocktail sauce and house-smoked hot sauce; and an array of hand rolled sushi like Spicy Tuna Rolls and Salmon Crab Rolls.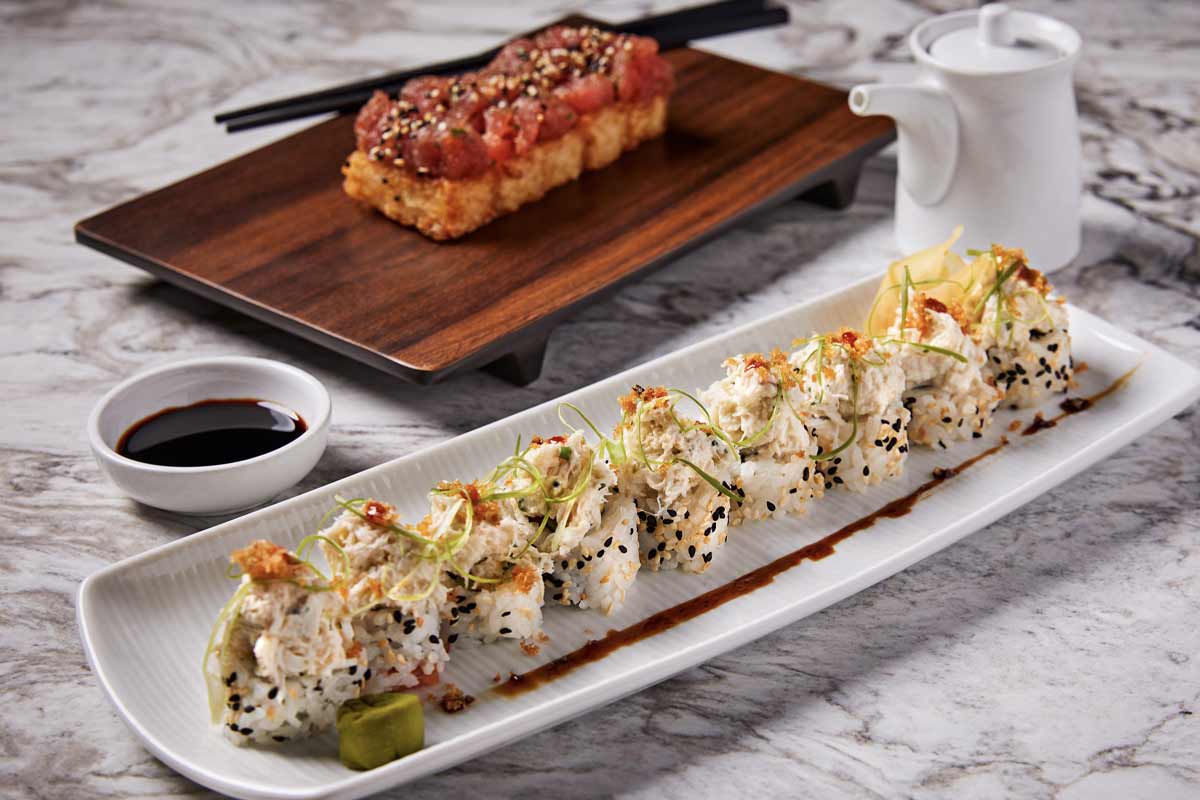 We recommend the Grilled Octopus which was cooked to perfection with a distinct smoky flavor served with crispy potatoes, pimentos and a balsamic reduction. The Spicy Tuna Crispy Rice with tuna tartare, chili oil, scallions, sesame seeds. The Classic Peruvian Ceviche, mahi mahi, cilantro, red onion, lime juice, garlic, sweet potato, corn nuts is one of the best we've ever had and the decadent Fresh Baked Milk Roll with romero honey whipped butter, sea salt.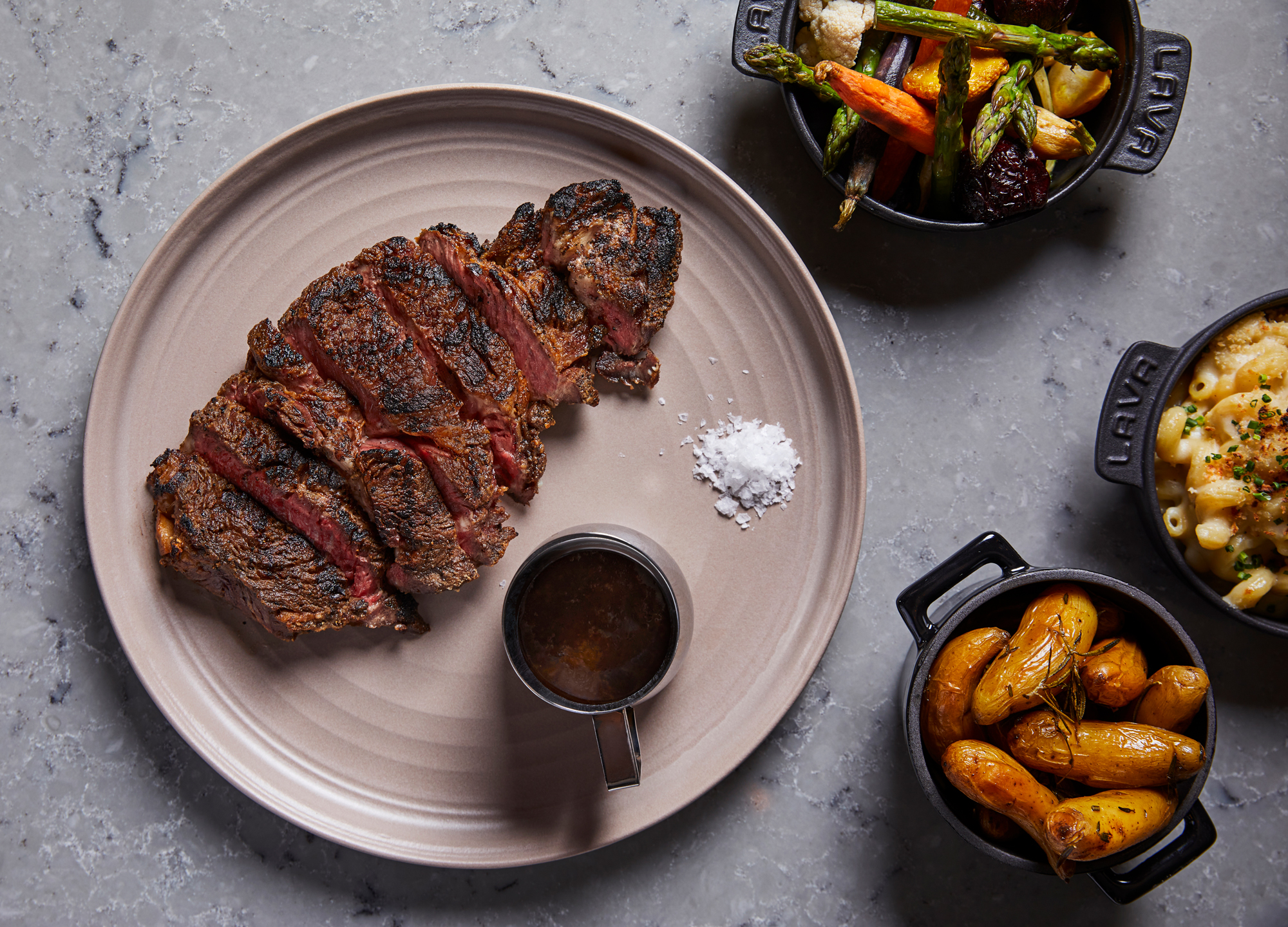 The menu features an "Our Cuts" section showcasing perfectly grilled-to-order steaks, including Filet Mignon, Rib Eye, New York Strip and Skirt Steak. Mains include Public Square's signature dishes from land and sea like a Crispy Suckling Pig with crispy skin chicharrones, baked sweet potato, spicy Napa cabbage slaw and honey bourbon sauce; Morel Mushroom Risotto with porcini mushroom-infused Arborio rice, mascarpone & Parmigiano-Reggiano; and Grilled Branzino with broccolini, herb roasted fingerling potatoes, roasted pepper chimichurri and lemon butter vinaigrette.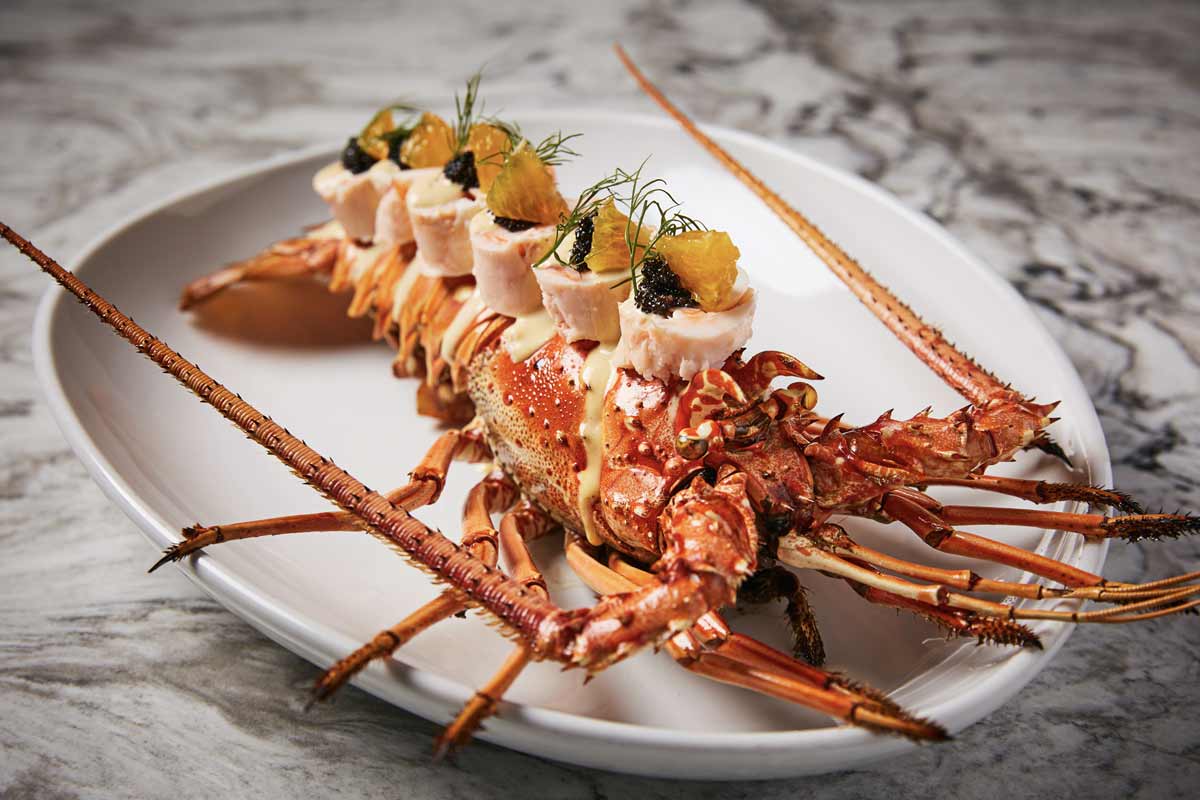 Soft lighting from the room's brass-toned chandeliers emit an inviting glow that runs through the floor-to-ceiling windows out onto the street corner. The glass-encased Sushi & Raw Bar display serves up a wide array of delectable menu items. The Jalapeño Hamachi and Dragon Rolls are not to be missed. From the Raw bar the 2 lb Florida lobster with paddle fish caviar, orange segments, passion fruit aioli and the Seafood Tower overflowing with lobster, oysters, crab salad, ceviche, and shrimp are decadent crowd pleasers.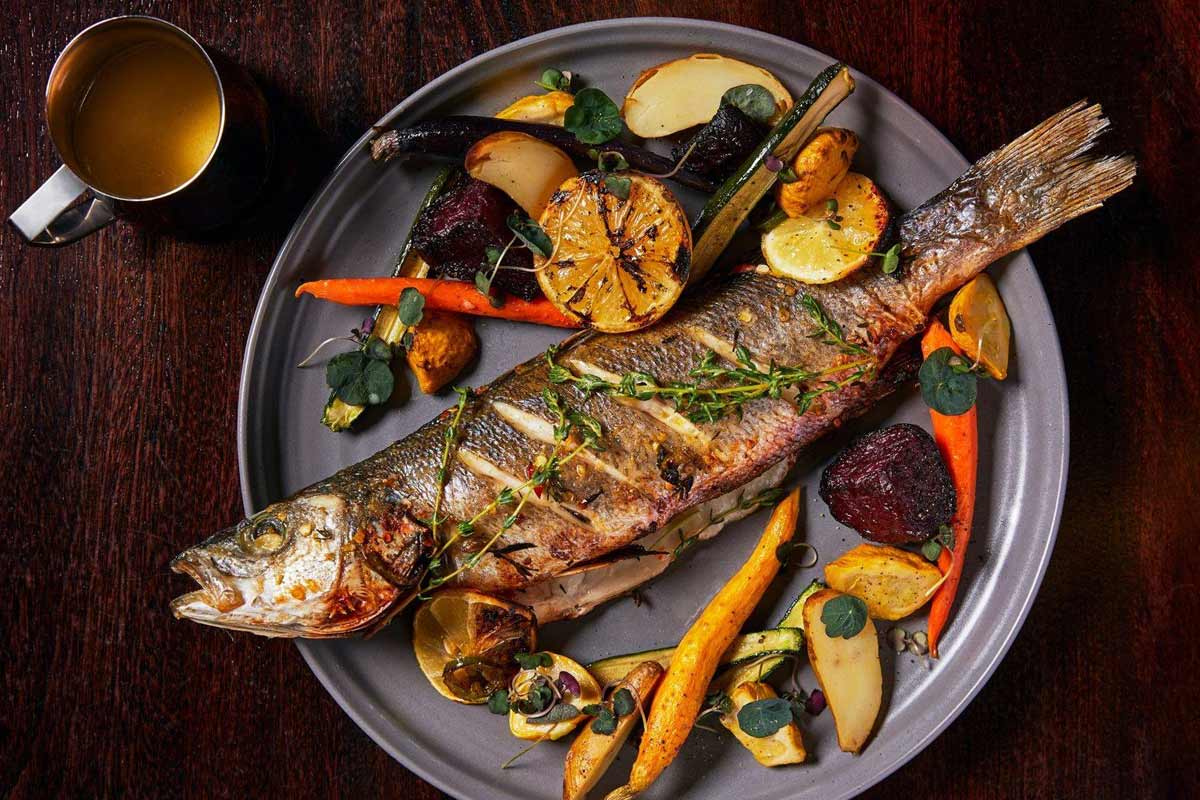 Public Square
is a welcomed addition to the neighborhood and will be a destination for locals and well worth the trip for anyone looking for a contemporary menu in a casual and inviting setting. The Grove Bay Hospitality Group has once again launched another successful restaurant that fits perfectly into their portfolio of award-winning restaurant concepts. Grove Bay Hospitality Group continues to follow the
CDC Guidelines for restaurants
. Public Square is open for indoor dining, adhering to Miami Dade County's 50% indoor dining capacity requirements. As with all other Grove Bay restaurants, Public Square requires patrons to wear masks while not seated at their tables and while not eating or drinking.
Public Square
is located at 6915 Red Road, Miami, FL 33143 in the former Shula's 347 space and is open Sunday through Thursday from 5pm - 10pm and Friday and Saturday from 5pm to 11pm. The restaurant will soon launch their Sunday Brunch and will also be offering a New Years menu for those planning their Holiday dining. Reservations are recommended and can be made
here
.